Let's say: you're in the middle of turning your business into a marketing powerhouse using SEMrush, one of the best products available to manage your various marketing campaigns and social platforms. To get a clear understanding of larger business and financial trends, you decide to start using Power BI's famous reporting platforms and visualizations. Now the important question: how do you flow your SEMrush data into Power BI for the most accurate reporting?
We did the research for you - when it comes to connecting SEMrush with Power BI, you can either use SEMrush's API or a 3rd party connector platform. Keep reading for an overview of how these methods work, how they compare, and a few of the best options out there.
Option 1: Direct Connection Using SEMrush API
Everyone likes the idea of cutting out the middleman, which is exactly what SEMrush's API key allows you to do. By purchasing a "Business Subscription" plan from SEMrush, you will have access to an API key that can be used to call data directly from your SEMrush account into Power BI, configured to your specifications.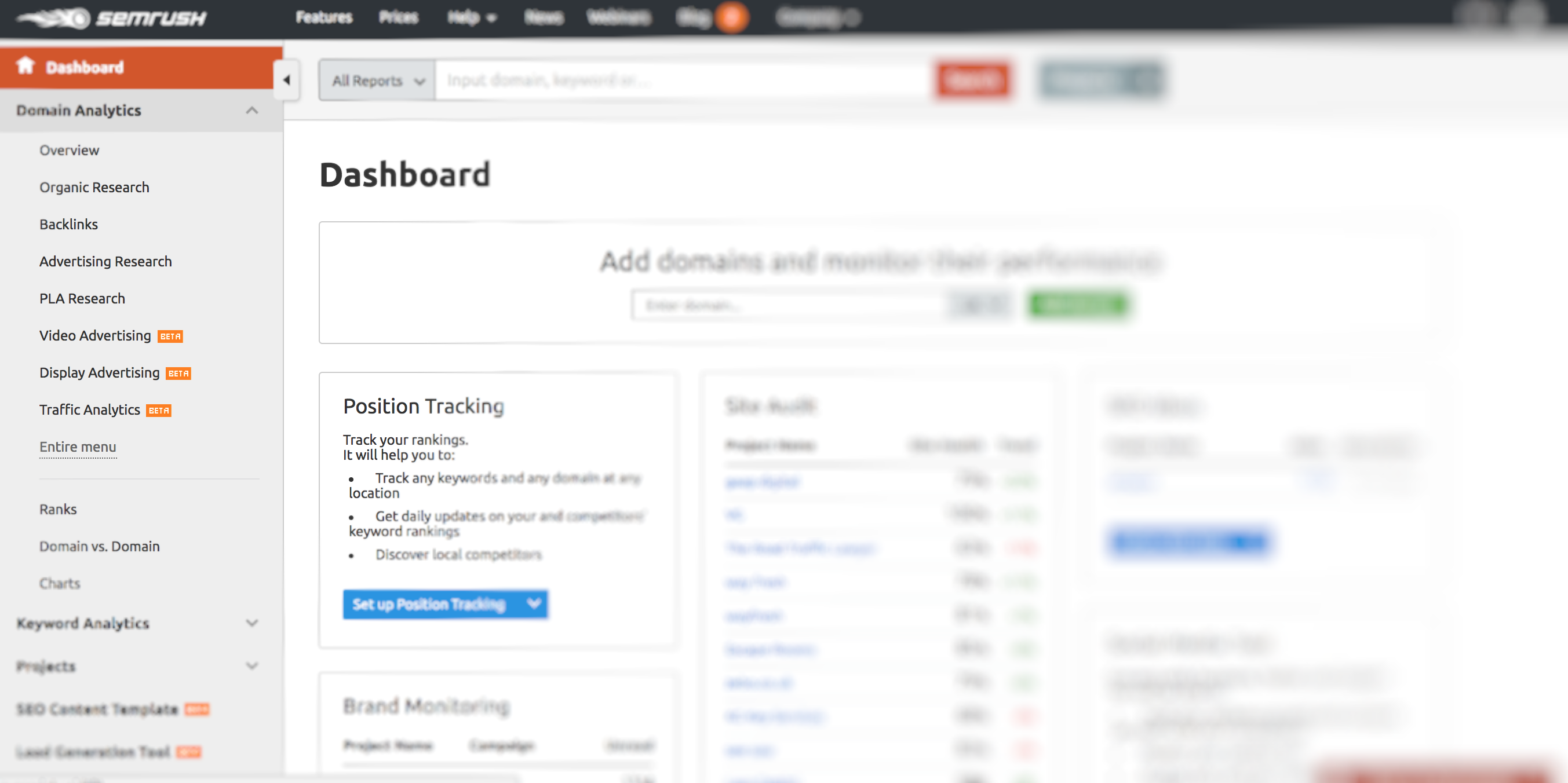 Pros: Simply put, this is the cheapest option available to you. You don't have to pay into a 3rd party service to act as the conduit of information, so you save money and you don't need to remember yet another password for yet another software program. Plus, if you're savvy with writing code and fluent in API calls, you can flex those skills for a highly customized connection.
Cons: This option requires the most time and brainpower, at the same time offering you limited possibilities in data transformation. If you connect SEMrush and Power BI directly without a properly specified API request, you could end up with a boatload of raw data that Power BI is not able to easily sort into your preferred metrics and dimensions, leaving you with a messy dashboard that takes even more of your time to fix. For those of us who are not programmers (or who work in small organizations without access to such specialists), this option risks a massive headache and a useless dashboard in Power BI, leading one to wonder….what's the point?
Let's take a look at the alternative to direct API: third party data management platforms. While you have more than a few choices, we've limited ourselves to discussing three high-quality players on the field who offer SEMrush to Power BI as an off-the-shelf connector - Dataddo, Supermetrics, and Funnel.
Option 2: Dataddo
Dataddo is a no-coding, cloud-based data integration and transformation platform which does the work for you of moving your data from point A to point B, transforming it along the way into whatever configurations best suit your needs. After logging in, the user can authorize Dataddo to access their SEMrush account, bring data into their Dataddo control panel for transformation, and load it to Power BI for a beautifully-configured dashboard report.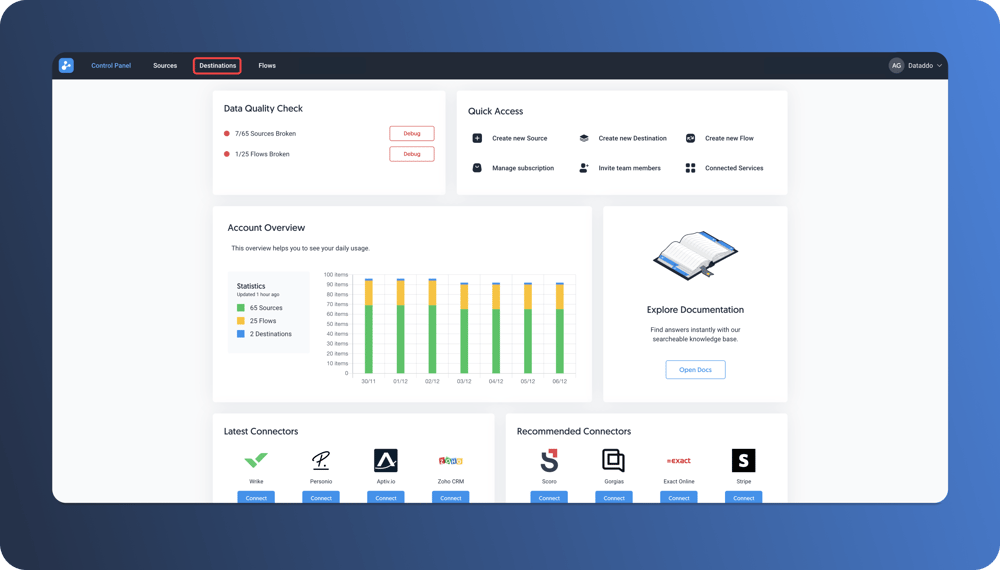 Pros: Because Dataddo is no-coding, all you need to get your data flowing is the API key from SEMrush while the platform uses its integration technology to create an uber-stable data pipeline to Power BI. Dataddo offers you a ton of options in data manipulation via a simple interface that's friendly to the least-technical user among us. This platform is meant to be used for all of your data management needs, which means that if you have other data sources you want to flow to Power BI (or another destination such as a data warehouse), you can manage all your integrations from a single point. Not to mention, Dataddo is not only one of the least expensive tools on the market, charging only a flat fee per data source used, connecting data to dashboarding tools such as Power BI is also possible for completely free.
Cons: If you hadn't noticed, Dataddo is a third-party program, which does put a middle man between SEMrush and Power BI and charges a fee that you wouldn't be paying otherwise. If you're determined not to bring in additional software, this might not be the option for you, but the simple nature of the program combined with data transformation possibilities give you a lot of bang for your buck.
Option 3: Supermetrics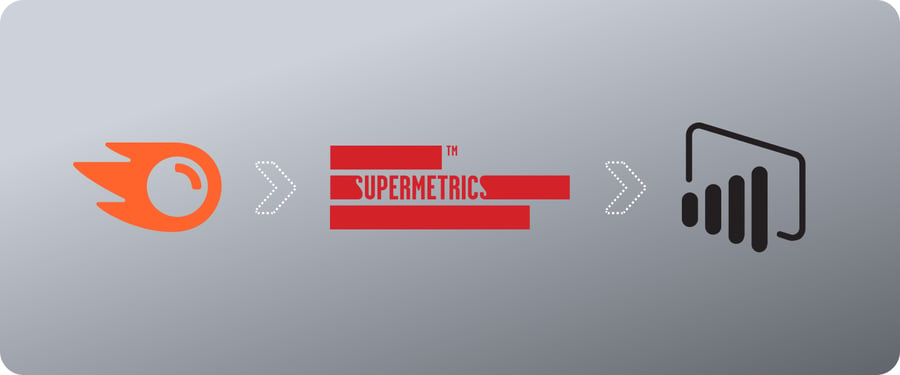 Supermetrics is a software extension for Google and excel products that easily moves data from a variety of marketing sources into your preferred reporting platform or data warehouse. While they integrate directly as an extension to a handful of popular platforms, for everything else, they provide "Supermetrics API," which they use to link SEMrush and Power BI.
Pros: Think of this as option 1, but way better. Instead of you needing to specify the API calls yourself and risk shabby connections and broken pipelines, Supermetrics can provide a rock-solid connection to bring all of your SEMrush data into Power BI with the metrics pre-configured, so you get a beautiful report with only the information you need, and none that you don't. Supermetrics API takes your data and puts it where you want it.
Cons: ...that's all it does. Basically, you're paying for an API sequence that you can plug and play as needed, but you don't have the opportunity to centrally manage your data pipelines. The pricing is bespoke, so you'll need to ask them for a quote depending on your needs, industry, and number of data sources if you want to know how much their API would cost. All that said, it's always a relief that you have the Supermetrics support team behind you for help with the inevitable integration issues.
Option 4: Funnel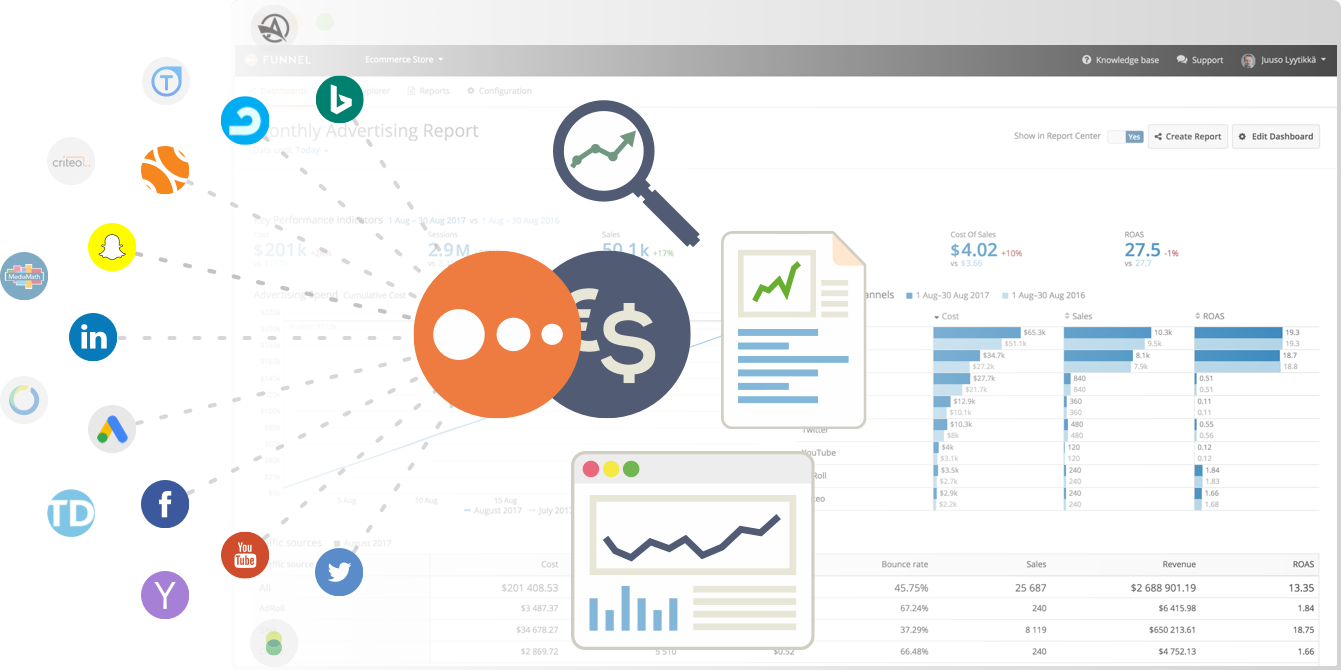 Funnel is a highly-sophisticated data management platform built specifically for marketing data sources and for people working in the marketing and advertising industries. They offer data visualization tools and central monitoring of data pipelines for hundreds of data marketing sources and plenty of data destinations (including, of course, data going from SEMrush to Power BI).
Pros: this platform can do a lot, and we don't just mean moving your data easily and securely from SEMrush to Power BI. Funnel can perform a plethora of data transformations, including automatic currency conversion and metric normalization, meaning the data getting fed to Power BI is optimized for smooth reporting. Funnel can even provide you with data visualizations (reports, etc) within its platform, without exporting to a BI tool.
Cons: If all you need to do is move data from SEMrush to Power BI, this platform might actually be overkill. And believe, us, you'd be paying a hefty price for it. In fact, if all you need is to generate dashboards and reports, using Funnel to connect to Power BI is practically redundant, as the former will do most of what the latter provides anyway. We gotta hand it to them though: Funnel is one hell of a tool.
The Takeaway - Why Choose Dataddo?
In general, unless you know exactly what you're doing in the realm of manual API integrations, we would suggest a 3rd party option to help you with your SEMrush - Power BI data connection. In that vein, Dataddo is an excellent option for its simple yet versatile layout, with a price that can't be beat or even for free. You can be assured of a safe, secure, and solid connection between your Xero and Power BI accounts, with the added bonus of flexible data transformations.
Click the link below to start your 14-day free trial, and experience Dataddo for yourself.
Connect SEMrush to Power BI
for FREE
Just a few quick steps and you'll find all your SEMrush data in your favorite BI tool.