So, you want to visualize your YouTube data in Tableau - but how can you get your data from point A to point B?
Surprisingly, there aren't very many options out there to facilitate this connection. You could spend the time and manually extract using YouTube API, or you can spend a little bit of money and go with a third-party service that will do all the heavy lifting for you.
Let's take a look at what's available and which option would be best suited for you and your budget, amount of time, and technological prowess.
YouTube API or Manual Extraction
Exporting data for a YouTube video or channel is a fairly simple process. Sign-in to YouTube Studio, select 'Analytics', find a report that you like, and export. Easy enough, right? Sure - if you only need 500 rows of data.
While this process is simple, it is very limited in the amount of data you are able to extract. And for those with a bunch of videos or multiple channels, this option is not going to give you the full picture of your YouTube performance.
This is where things may get a bit tricky - APIs. If you're comfortable with APIs, can do a bit of coding, and have some time to dedicate to exporting the data, this may be the best option for you. It's free and there are less limitations, but users would still need to keep an eye on their quota usage for each of their API requests.
There are two APIs available for exporting your YouTube data - YouTube Reporting API or YouTube Analytics API. The Reporting API supports predefined reports that allow for downloading of bulk data sets for all of your channels. The Analytics API enables custom reports for targeted YouTube data and provides filtering and sorting parameters.
You can find extensive documentation on how YouTube's APIs work, so we won't get into the technicalities of setting up APIs in this article. Instead, let's look at some easier, and time-saving, options to extract your YouTube data and easily load into Tableau.
---
YouTube to Tableau: Third-Party Options
When collecting data from the second most popular social media platform and second largest search engine, you want to make sure you're getting the most out of your analytics. And if you don't have a degree in data science, using an API can be a daunting task.
That's where third-party data integration platforms come in. Of the many platforms on the market, here's a look at a few that have off-the-shelf options to connect your YouTube data to Tableau.
Dataddo
✔️ Affordable
✔️ No-Code, Easy to Use Platform
✔️ Low Maintenance
Dataddo is a data integration platform designed with the average user in mind. The no-code platform makes it easy for anyone on your team to connect any and all of your data sources to be transformed and loaded into your favorite BI tool, such as Tableau, or data storage solution.
Dataddo has a simple step-by-step process to create a data source and connect a destination. Select from a variety of data sets pertaining to a single video, a playlist, or your whole channel and choose which attributes you want to see loaded into Tableau. Dataddo even allows you to set up Snapshots to periodically save your historical data all in one place. Preview your data and then easily set up a data flow to Tableau.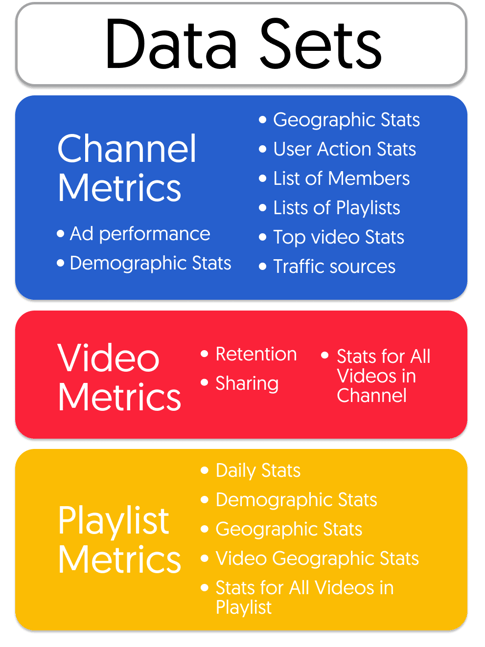 Once the connection has been created, there is no maintenance required. Dataddo will automatically extract, transform, and load your YouTube data into Tableau, so you can stop wasting time with APIs and manual extraction and get to analyzing your important data.
Dataddo is also one of the cheapest options on the market, starting at just $20 per data source. With more than 80 out-of-the-box data source connectors available, and the ability to request custom sources, you're sure to be able to connect your data from all of your sources to be visualized in Tableau.
Funnel
| | |
| --- | --- |
| ✔️ Easy Transformation | ❌ Higher Price Point |
| ✔️ No-Code, Easy to Use Platform | ❌ Only Marketing & Advertising Connectors |
| ✔️ Available Connectors | |
Funnel is another popular data integration tool on the market. With more than 500 available connectors, you're sure to find all the marketing and advertising data sources you need. And while Funnel does not provide such a wide array of destinations, there is an opportunity to have a custom connector built by Funnel.
Like Dataddo, Funnel is a no-code platform, making it easy for any member of your team to use the service to export data from YouTube to load into Tableau. With Funnel's data transformation abilities, you can clean, map, and segment your data without spending hours on set-up.
The big difference with Funnel, however, is the price point. Funnel services start at $499 per month which allows for up to $100,000 of monthly advertising spend to be tracked through the Funnel platform. At such a high price point, Funnel may not be a viable option for some users.
Supermetrics
| | |
| --- | --- |
| ✔️ Low Maintenance | ❌ No Data Transformation |
| ✔️ Report Automation | ❌ Only Marketing & Advertising Connectors |
Supermetrics is a data integration platform geared specifically towards marketers, only offering connections to marketing and CRM sources such as YouTube, Google Analytics, and HubSpot.
Much like Dataddo and Funnel, Supermetrics allows you to aggregate data from your YouTube channel with your other marketing channels all within Tableau. Using the Supermetrics API, users are able to connect with Tableau to load data from data sources such as YouTube.
Supermetrics is not itself a platform but rather a mover of data. While Dataddo provides for historical data storage and data transformation, Supermetrics simply extracts from YouTube and loads directly into Tableau, essentially cutting out the middle man.
Unfortunately, it's difficult to compare pricing here as Supermetrics does not make that information available. Rather, potential users must request a quote for the planned use case.
What Works Best For You
Depending on your level of technical expertise, your budget, and your time frame, any of these options could work for you. If you are comfortable with APIs and have the time to do the work, using either of YouTube's APIs would be the best, and free, option.
However, if you're trying to view all of your YouTube data and visualize it alongside data from your other social media platforms or marketing channels, it would be best to go with a third-party service. While it will cost a bit of money, chances are you'll make up for it in the amount of time saved for you and your data team.
Furthermore, if you have little to no technical experience and just want your YouTube data in Tableau right away, there's really only one feasible option - Dataddo.
Why Dataddo?
With Dataddo, you can quickly and easily connect your YouTube data to Tableau so you can get to visualizing and analyzing your data quickly and efficiently.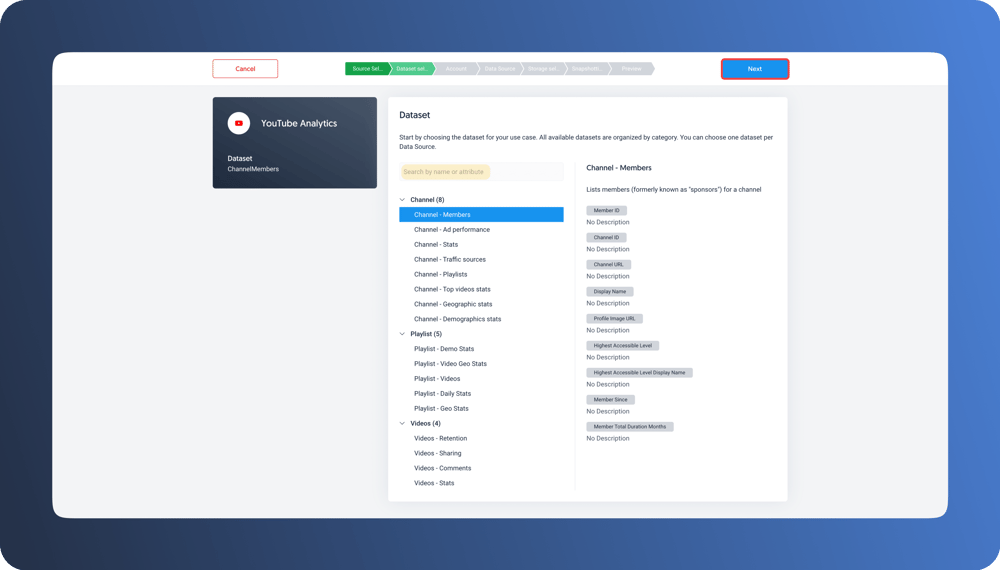 The no-code platform makes it simple for any user to connect your data sources to the data warehouse, dashboarding app, or BI tool of your choice.
See for yourself how Dataddo can help with your data needs - try out Dataddo's 14-day free trial today!
Connect YouTube to Tableau
Just a few quick steps to get your data to your dashboard for better analysis, without the hassle.