While Instagram provides some useful metrics and insights, it's missing one fairly important metric - historical follower count.
You may have noticed this oversight already. You may have even done some research on a workaround to access this metric. But you have probably come up with next to nothing in terms of viable solutions. The free services on the market won't provide more than some basic stats and paying for such a service can become expensive quickly.
So, how can your business accurately measure your followers over time? We have a simple solution so you can start visualizing your historical Instagram data in Looker Studio, or any other dashboarding app.
How to View Your Historical Instagram Analytics
As Instagram does not provide access to historical data, you must turn to a third-party data integration platform. With a platform like Dataddo, your Instagram data will be extracted and saved daily so you can build up a historical view of your follower count.
Here's how it works:
Step 1: Dataddo extracts data from Instagram daily. (Or weekly extractions with Dataddo's Free plan.)
Step 2: Your.)data is saved.
Step 3: Dataddo loads the data into the dashboarding tool of your choice (pro-tip: Looker Studio is both powerful and free).
Step 4: You create beautiful visualizations with your daily Instagram data in your dashboarding tool.
Bonus Step: You combine your newly-gathered Instagram data with metrics from other social platforms for a complete social media dashboard.
With this simple process, you'll be able to take advantage of all that Instagram data has to offer. You can build up your historical data to create comprehensive charts and graphs in your dashboarding app and further inform your marketing efforts.
Step-by-Step Guide to Visualizing Your Instagram Follower Count
Just a few minutes for the initial set-up to connect to your Instagram account and your preferred dashboarding app and you'll be able to start building up your historical Instagram data to visualize your follower count.
Once you've signed up for Dataddo's 14-day free trial, navigate to your Dataddo dashboard and click 'Sources' at the top of your screen.
Then click 'New Source' and search for 'Instagram'. Select 'Instagram Business'.

Next, you'll need to connect your Instagram account. Make sure you are signed into your business account. Click 'Next'.
Select all of the attributes you would like to track. For your historical follower count, make sure the attribute 'Lifetime Followers Count' is selected. Then click 'Next'.

Here, you will configure your snapshotting preferences. We recommend that you keep the suggested snapshot settings but feel free to change the hour of snapshot and timezone to your needs.

Please note that 'Snapshot Retention' should be set to

'Append - Retain and merge'

as this allows Dataddo to save the snapshot each day so you're able to access your historical data.
Additionally, 'Snapshotting Frequency' should be set to

daily

. You can then choose to view the data in weekly or monthly form within the dashboarding app.
Once the settings are set-up to your liking, click 'See Preview'.
Confirm the data preview is correct and click 'Save Source'.
Next, you will create a new flow to connect Instagram to Looker Studio (or the dashboard of your choice). Select 'Add Source to a Flow' or click 'Data Flows' from the top of the screen.
Click 'Add Destination' on the right side of your screen and select your destination. In this example, we will use Looker Studio. Then click 'Configuration' at the top right side of your screen.
Name your data flow and click 'Create Flow'.
Now, you'll need to set up your Looker Studio account to connect with Dataddo. You'll see a pop-up that provides you with the Dataddo API key and Dataddo API endpoint ID.

*Note: if using a dashboard other than Looker Studio, select the appropriate tab for your destination at the top of the pop-up and follow the instructions given.
Sign-in to your Looker Studio account, open a new dashboard, and click 'Connect to Data'.

Search for 'Dataddo' in the app marketplace. Then input the Dataddo API key and Dataddo API endpoint ID. Click 'Save'. Your Instagram data will now flow to Looker Studio.

Now, to set up a visualization in Looker Studio to view your historical follower count:
In a new dashboard, create the chart or table of your choosing.
On the right side, set the Date Range Dimension and Dimension to 'Date'. Set Metrics to 'follower_count'.

You will see that there is only a record for one day - yesterday. Because your historical Instagram data hasn't been saved anywhere yet, you will only be able to view yesterday's data. As Dataddo continues to extract your Instagram data everyday, your visuals in Looker Studio will update to include the new information giving you a view of your historical follower count.

Bonus: Combine Your Social Data for Optimal Insights
Once you've begun to gather your Instagram data, what better way to get the most out of it than by combining it with insights from your other social platforms? A cohesive social media dashboard lets you stay on top of trends on your social accounts and make the best decisions for your organization - don't stop at Instagram!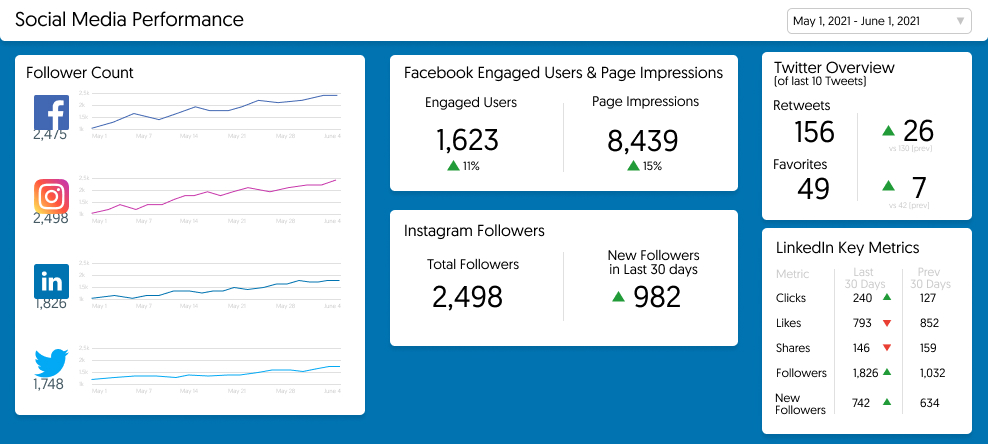 More Than Just Instagram Insights
Dataddo can help you unlock the full potential of your Instagram data, but that's not all. With more than 200 available connectors, you can extract data from all of your data sources to be visualized or stored in the destination of your choosing.
And with Dataddo's Free plan, connect up to three data flows to your dashboard or Google Sheets making it completely free to track your Instagram follower count.
Try out the 14-day free trial and get full platform functionality and on-boarding assistance to ensure you're getting the most out of your free trial, and your data.
View your historical Instagram follower count FOR FREE.
Just a few quick steps to unlock the full potential of your Instagram Insights.