Business owners who use Loyverse POS and who want to analyze their financial data are most likely aware of Loyverse's limited reporting capabilities. That's why many turn to Looker Studio, a free and accessible dashboarding application to help you generate the reports you need. However, if you want to avoid the tedious task of manually exporting, cleaning, and uploading your Loyverse data to get good results from Looker Studio, the best option is to use a third-party data management platform to do the hard work for you.
Dataddo is exactly one such platform which can provide the tools required to move and transform your Loyverse data, even automating the process so you don't need to continue fiddling with the pipeline after initial set-up. Curious about the method for creating a Loyverse to Looker Studio pipeline in Dataddo? Save this article for a step-by-step guide to the inner workings of the Dataddo platform as we take you through the connection process.
Step 1: Add a source.
From within your Dataddo control panel, click Sources at the top of the page, then "New Source" at the top right corner.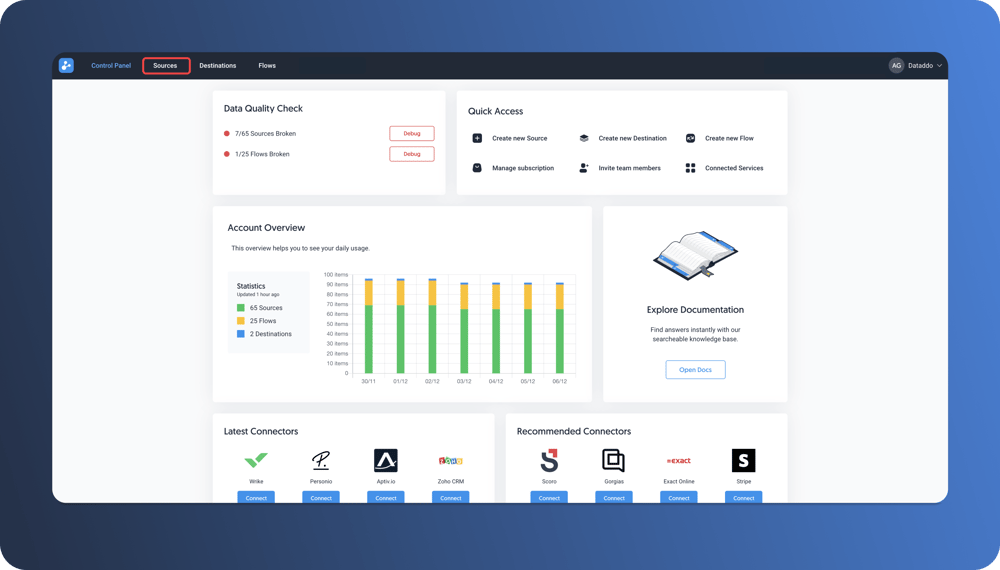 Type "Loyverse" into the search bar and click the icon. This will bring you to the configuration page.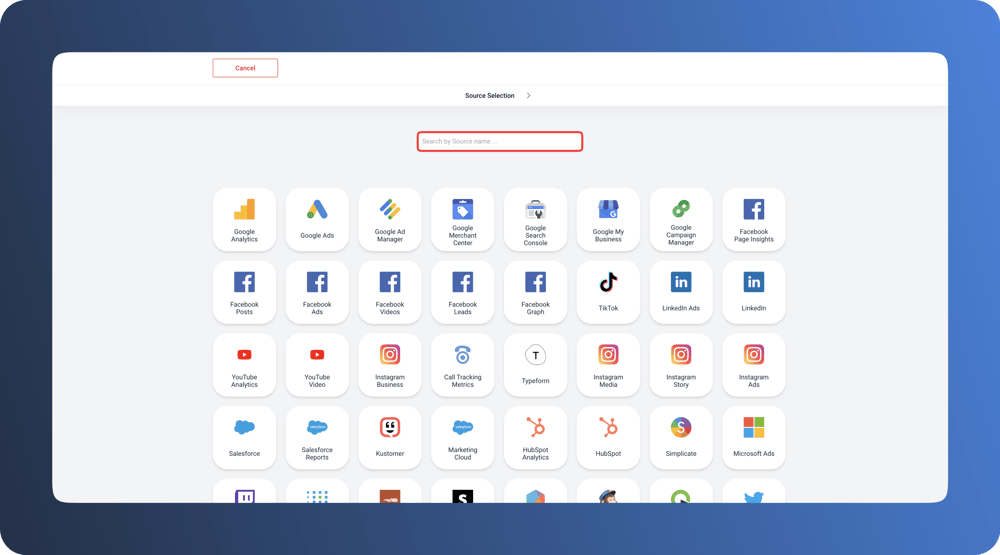 Step 2: Configure your data.
This is where you decide which data from Loyverse will go to Looker Studio, and how. Select which dataset you want to work with. Click "Next" and enter your Loyverse account email.
On the next page, name your data source in the "Data Source Name" box, then select which attributes of the data set you want to use in Looker Studio. In this case, I only want to see the customer name, email, postal code, first visit, and total spent. Click "Next."
Step 3: Choose data pulling frequency.
The "Snapshotting" page determines how often Dataddo will pull data from your source and how it will be stored in the app.
Choose the parameters for how often you want data to be synced, "Snapshotting Frequency" and what time range of data you want pulled at each sync (today's data, yesterday's data, last two day's data, etc). You can also choose the exact time of day you want the sync to occur, and how Dataddo should handle past snapshots.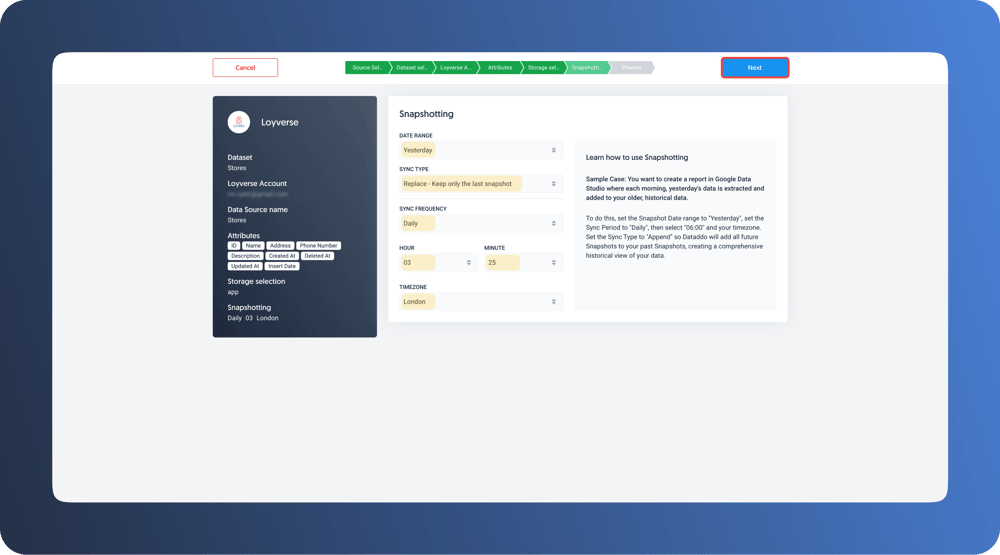 Click "See Preview" to ensure that the data looks the way you want it before hitting "Save and Create Flow" in the top right corner.
Step 4: Create API connection to Looker Studio
Now that your Loyverse data is securely in Dataddo, you can create the data flow to Looker Studio. Click "Save and Create Flow".
Click "Add Destination" and scroll down to select "Looker Studio" from the list. Then go to "Configuration" in the top right corner.
After naming your flow and clicking the yellow "Create Flow" button, you now need to make the connection to Dataddo within Looker Studio. From the "configure dashboard" pop-up, click the link that says "Dataddo Looker Studio connector" and follow the prompts within your Looker Studio account.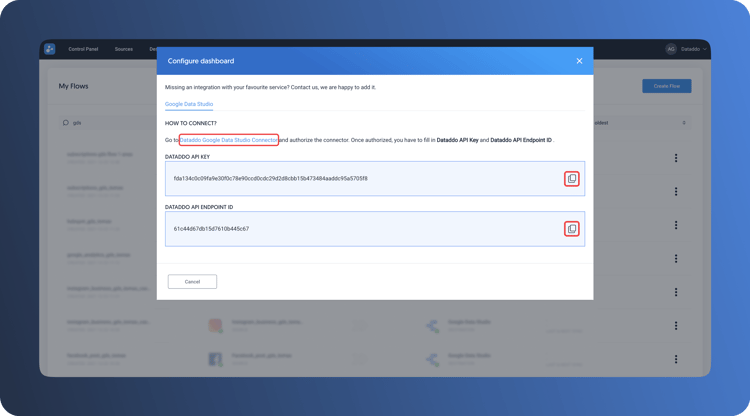 Looker Studio will ask you for Dataddo's API keys, provided in the pop-up. Simply copy and paste where requested in your Looker Studio account to build the connection.
Step 5: Get your data!
And just like that, you've built a pipeline within Dataddo! The Dataddo application will keep a live connection with Looker Studio so that every time you log into your Looker Studio, the figures you're working with will be up-to-date.
Remember that our support team is with you every step of the way in case you run into any snags. Simply use the chat box feature to get in touch or send us an email to support@dataddo.com.
Why choose Dataddo?
When it comes to modern-day data management, flexibility is more important than ever. Dataddo offers a variety of plug-and-play data connectors and the ability to create any connection you need that isn't already provided on the platform. Its pricing system is based only on the number of sources you use, and it can scale to any existing data architecture. If you want data management that actually works for you, start your 14-day free trial today!
Connect Loyverse to Looker Studio
Just a few quick steps to get your Loyverse data to your dashboard for better analysis, without the hassle.