ERP (Enterprise Resource Planning) is no longer just for massive corporations—in today's business world, companies big and small are adopting ERP systems for their organizational benefits. But what about when you need to integrate your ERP software with other applications? Proper ERP integration is key to utilizing your company's data and making the most of an ERP investment.
In this article: the importance of ERP integration and our top picks for ERP software.
What is ERP?
Enterprise Resource Planning software exists to automate, centralize, and harmonize information systems used within a company in order to reach a single source of truth. While ERP is often considered synonymous with financial systems, such as accounting and financial reporting, ERP software can include modules to manage any and every facet of a business: Supply Chain Management, Human Resources, Customer Relationship Management, Financials, and more.
The Role of Data Integration and ERP
While many ERP services offer modules to manage every business function, it's more than likely that a company will opt to go outside their ERP software for a third-party application better suited to their needs. In this situation, being able to integrate data between multiple systems is key to ensuring that your ERP functions as intended.
When it comes to the field of ETL (Extract, Transform, Load), ERP occupies a unique position with the potential to be both a data source and destination. For example, if the company chooses to use a separate CRM tool, the ERP software would be the destination to send CRM data formatted to harmonize with other company data. On the other hand, if the company's data team wants to send ERP data to a Business Intelligence tool for visualization and analysis, the ERP system becomes the source to extract from.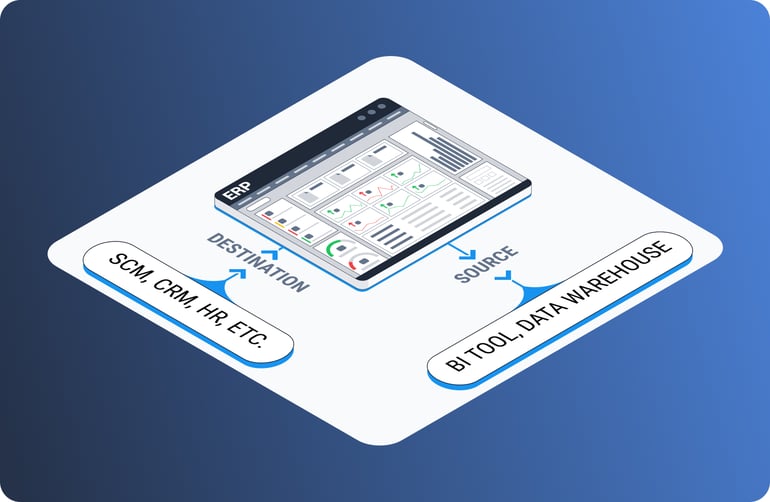 In both instances, a data integration platform can offer quick and easy integrations with the necessary data harmonization in any direction.
Methods to Integrate ERP
Choosing the right integration method for your ERP will be completely dependent on the specific needs of your organization.
Integration Platform as a Service (iPaaS): a cloud-based and often no-coding approach to ERP integration. Integration platforms can incorporate into any SaaS application or on-premises software, making them ideal for any organization's existing data stack. With most modern companies utilizing many individual SaaS applications, this option is popular for its ease, effectiveness, and affordability.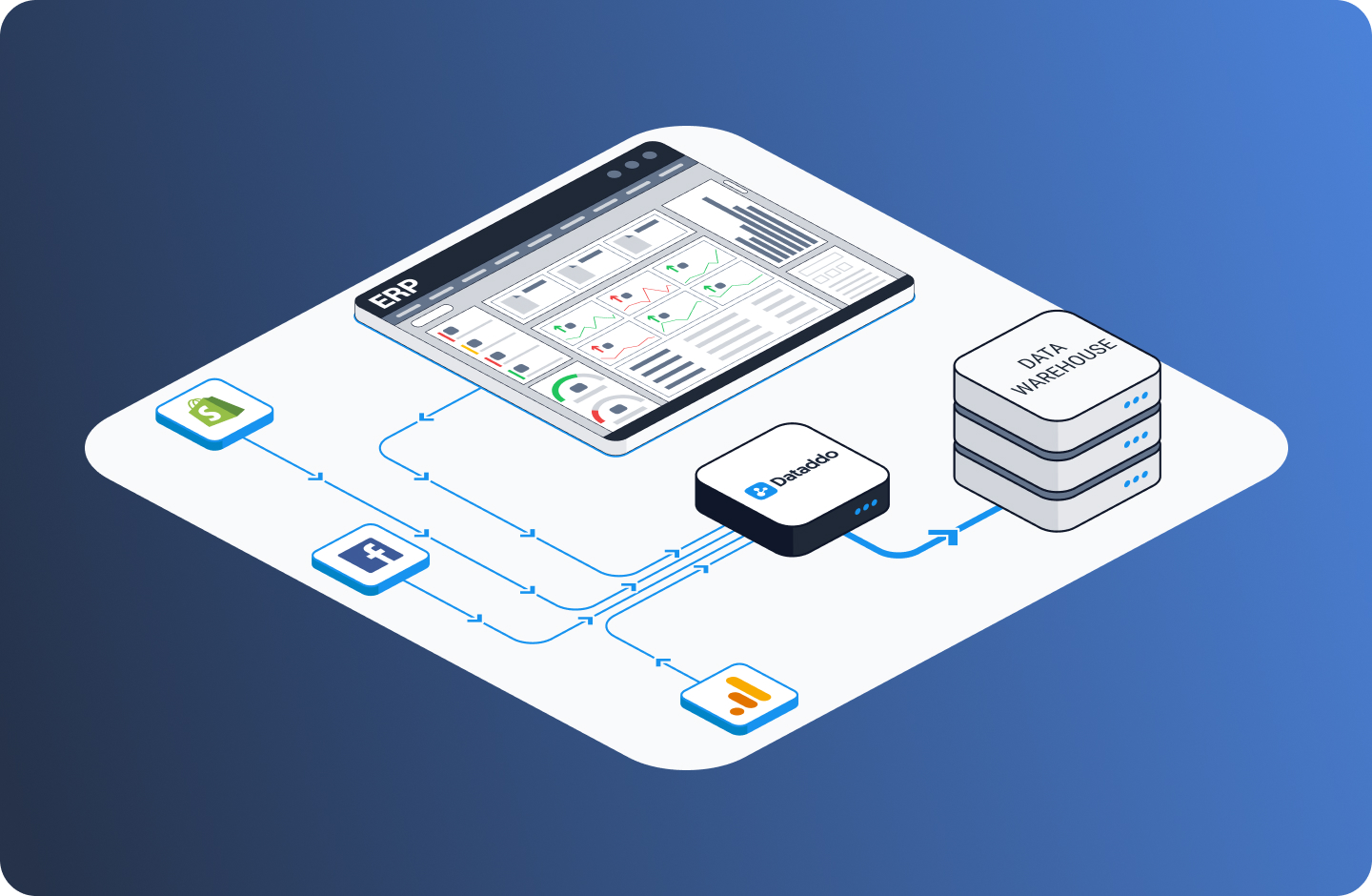 Dataddo is one such integration platform that allows users to quickly and easily integrate their ERP as either a data source or destination, depending on the need.
Some additional benefits of iPaaS include:
Does not require in-house resources
Scales well for fast-growing companies
Superior customer support
No-code approach makes it friendly to non-technical users
Frees up your developers to focus on tasks that drive your company forward
Point-to-point Integration: This method involves connecting each piece of software in your data architecture to every other piece, individually. While it might work if you only have 2 or 3 software elements, modern companies are inevitably working with a plethora of applications, and connecting every element to each other is simply not a realistic task for any IT department.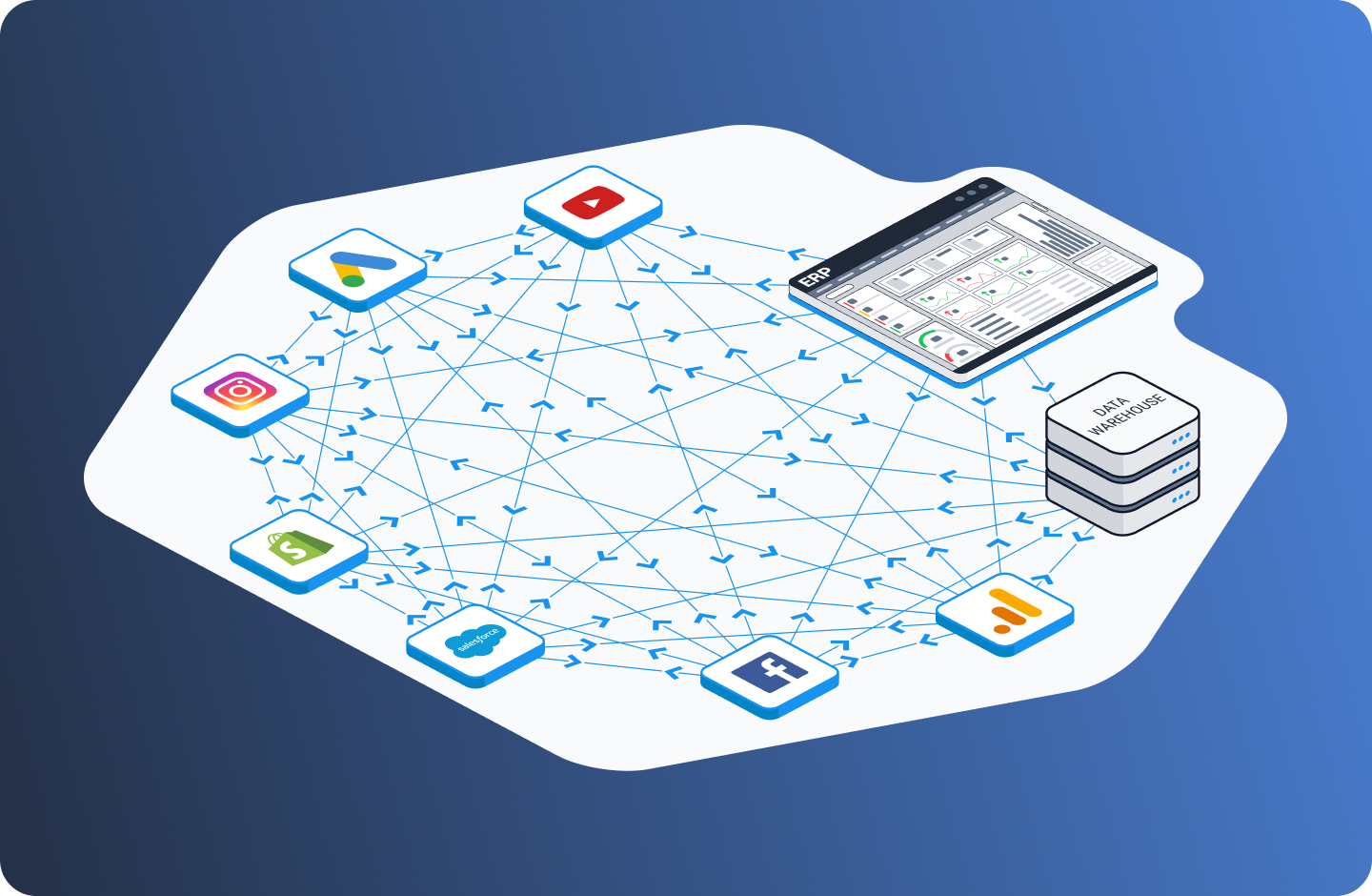 Enterprise Service Bus (ESB): an on-premises software solution that provides the framework necessary for applications to share data with one another. An ESB translates data between software for on-site integrations. While this method works very well for scaling on-prem integrations, it is not suited for adding SaaS applications, which most companies now require as they grow and add necessary elements to their data stack.
Best ERP Tools
Our favorite ERP tools on the market now (all of the following are available to be connected via Dataddo).
Oracle NetSuite
An original in the world of ERP, NetSuite was always ahead of the times as a system originally designed exclusively for the cloud. Though it is often thought of as a financial-first software, NetSuite can handle every facet of your enterprise functionality, from CRM to e-commerce and more.
Pros:
Excellent CRM capabilities
Easy to use, customizable workflows
Collection of ERP features makes it suitable for many different industries
Cons:
Lots of features, but highly complex
Tricky to customize for particular roles
An in-memory, relational database management system for SAP users, HANA stores and retrieves data requested by its integrated applications. Though it is not technically an ERP, it has vast analytical capabilities and easily connects your company data between systems, with flexibility through the cloud as well as on-prem. It is best suited to very large enterprises working with massive amounts of data and is excellent at helping those organizations to access a single source of truth.
Pros:
Single database reduces system complexity
Powerful solution for Big Data operations
Flexible deployment: available via cloud, on-prem, or hybrid
Predictive analytics give your company the edge it needs to get ahead
Cons:
Doesn't integrate well with non-SAP tools
Deployment process is long and tedious
Microsoft Dynamics
A line of ERP and CRM software applications offered by Microsoft: Dynamics is a solid offer for Microsoft devotees, integrating easily with Office 365 and other MS cloud apps. Dynamics provides excellent finance operations and ERP capabilities. It's designed for small and midsize enterprises, and some organizations might find it lacking in functionality.
Pros:
Allows users to streamline workflows in conjunction with other common MS software
Intuitive customer data platform unifies customer data for better insights
Improves conversions with advanced lead scoring models
Cons
Interface is confusing for some users
Implementation can be a difficult process
Exact Online's ERP software, Exact Globe, unifies all of your business processes into one system, including accounting, CRM, logistics, project management, and business administration. It offers in-program insights into your data and makes way for easy team collaboration. As a result, everyone in your company can view the same figures and keep the margin for communication error to an absolute minimum. It is particularly suited to the manufacturing, wholesale, and professional services industries.
Pros:
Cost-effective ERP, especially in light manufacturing use cases
Intuitive UX, possibilities for customizations are endless
Many possible integrations to external programs (including Dataddo)
Cons:
Necessary to purchase individual modules for every specific need
When Choosing an ERP, Keep It Personal
So, is now the right time to use data integration to upgrade your ERP? If yes, congratulations—you're one step closer to simpler, easier day-to-day processes. Refer back to this article when choosing the approach to suits your use case best.
As far as the actual ERP you want to move forward with, the number of quality ERP systems available means that you have the option to choose the software that can mold to your needs - not the other way around. Be sure to research the system that can best support the growth of your company, keeping in mind that the ease at which your ERP can integrate with other applications will be paramount to getting the most out of your investment.
See how Dataddo can help your business
Just a few quick steps to get your data to your dashboard for better analysis, without the hassle.