Sat-7 is the first and largest Christian satellite television network operating in the Middle East and North Africa. With multiple channels available in more than 50 countries, Sat-7 requires different marketing techniques and strategies based on location and language. So many marketing campaigns ultimately create an abundance of data that needs to be analyzed - that's where Dataddo comes in.

The Challenge: Streamline Scatter Socials
Sat-7 needed to aggregate data from more than 100 Facebook and Instagram accounts and visualize the data in Klipfolio, their preferred dashboarding tool. In order to create the necessary reports and inform digital media decisions, Sat-7's data analysis team needed access to metrics such as visits, views, and overall account performance.
Before Dataddo, multiple data analysts were spending hours on a daily basis extracting the information they needed. Part of the frustration stemmed from limitations on metrics able to be exported by Instagram, such as 'Story' views.

The Solution: Automatic Extraction
Using Dataddo, Sat-7 was able to centralize their data management operations into Klipfolio.
With automatic data synchronizations from multiple accounts across Facebook and Instagram, Dataddo was able to eliminate the tedious task of manually extracting data from each individual account. This saved many hours of work for the Sat-7 team and optimized their data workflow so the team could deliver reports quickly and reliably.
Dataddo also allowed Sat-7 to build a database and create a timeline of Instagram Story views and reactions, solving the Instagram metrics limitations and unlocking many new and valuable insights into Sat-7's digital marketing campaigns.
Moving Forward With Dataddo
Dataddo's automated syncing capabilities have eliminated the need for manual data extraction and simplified Sat-7's integration to Klipfolio. Their data analysts no longer need to spend hours every day extracting data from more than 100 accounts. They can instead use their time for more valuable tasks, such as analyzing the data.
The whole team now has easy access to all the data from all their social media accounts. Our no-code platform makes is simple for anyone to manipulate and send data to their desired destination in no time.
Client Testimonial
"Working with Dataddo has greatly simplified our reporting and given us access to trend data and insights that we were previously unable to generate."

- Andrew Hart, Chief Operations Officer at Sat-7
Dataddo: An Overview
Dataddo works in just a few simple steps. First, connect data sources to the Dataddo platform. This will automatically sync all your data into tables inside the platform so you can further transform the data. When your data is ready to be presented and analyzed, send it to the dashboard or warehouse of your choice.
Dataddo provides centralized management and monitoring of all your data pipelines, making it easy to combine data from many different sources. With regular data backup within our system, you'll never have to worry about not being able to access your most important data.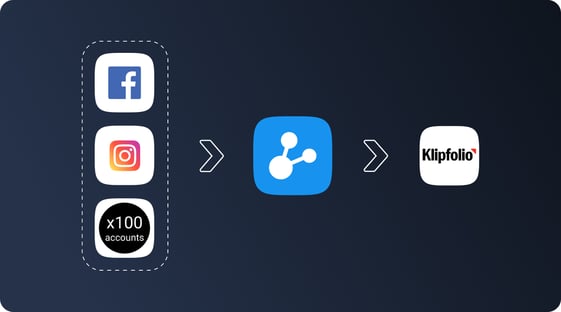 Ready to Try Dataddo for Yourself?
Is your team ready to save time and provide quick and reliable reports based on easily accessible data? See how Dataddo's solutions can help with your data problems. Sign up for a 14-day free trial, including a session with our on-boarding specialists.
Marketing Data Out of Control?
Just a few quick steps to get your data to your dashboard for better analysis, without the hassle.