Exciting news for all Dataddo users - we have launched a brand new design and added features to the Dataddo platform! Get the full picture of your Dataddo usage with the newly designed control panel and always stay on top of your data
pipeline
functionality.
And this is just the first of many new things to come! As we roll-out all of our new features in the coming weeks, make sure to check back with the Dataddo platform and the Dataddo blog for all the latest updates.
Control Panel Updates
Get the most out of your Dataddo control panel! Now, you can easily see all of your Dataddo information at a glance.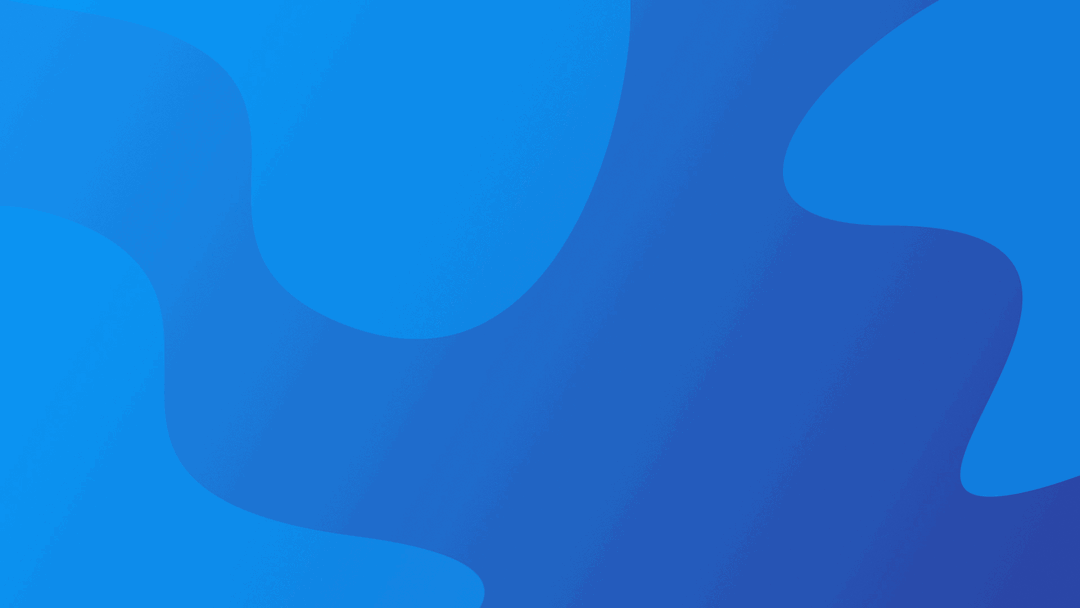 Account Overview & Billing Information
Get an overview of your account and billing information right away at the top of your control panel. View how many days are left on your free trial or the dates of your current billing period. Easily view your subscription plan, number of active data sources, and your estimated monthly spend. Quickly change your password or invite your colleagues by clicking on 'Manage Account'.
News & Updates
Stay up-to-date with product news and updates. View our newest blog posts with news from the industry and from Dataddo. Take full advantage of all that Dataddo has to offer by staying informed of new platform updates and viewing our helpful tips and tricks.
System Status & Current Connections
Easily fix any errors or bugs in your data pipeline by viewing your system status right on your control panel. If it's green, your connectors are operating properly and your data flows are intact. If the widget is red, easily view the issues that have occurred and click 'Debug' to understand and resolve the issue. But you won't have to continually check the platform for bugs - we'll send you an email notification as soon as we detect an error in your pipelines!
New Connectors & Recommendations
View all new connectors and easily connect with just a few clicks. Looking for other helpful apps for your business? View our recommendations based on your current data source usage and find the best solutions for your business's needs.
Smooth Onboarding & Constant Support
For our trial users, get direct access to our Head of Customer Success to complete your on-boarding. For our current users, the chat bubble in the bottom right side of your screen is always active and our support staff is standing by. No matter the level of your subscription, from our free trial users to our Enterprise tier clients, we are always here to help!
Connecting Your Data Sources
Connecting your data sources and destinations, and setting up data flows is now easier than ever! Allow Dataddo to facilitate finding the best datasets for your company and view the explanations of key components to assist even the least technical users. Our no-code approach is designed to make the set-up of your pipelines as easy, and quick, as possible so your business can start making the best data-driven decisions.
Step 1: Choose Your Dataset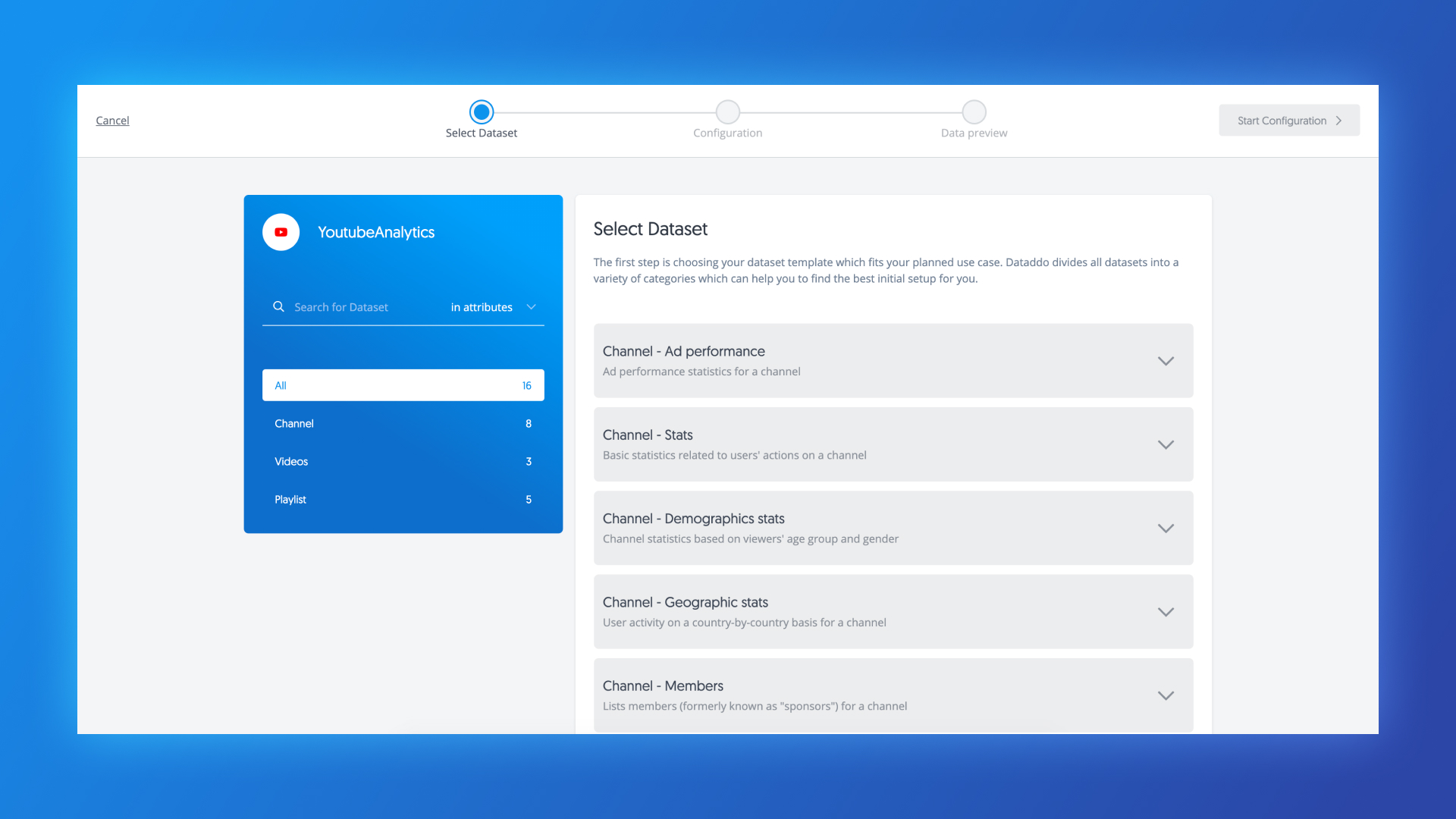 Choose the dataset template that will work best for your team and your business with the recommended datasets provided by Dataddo.
Step 2: Configure Your Data Source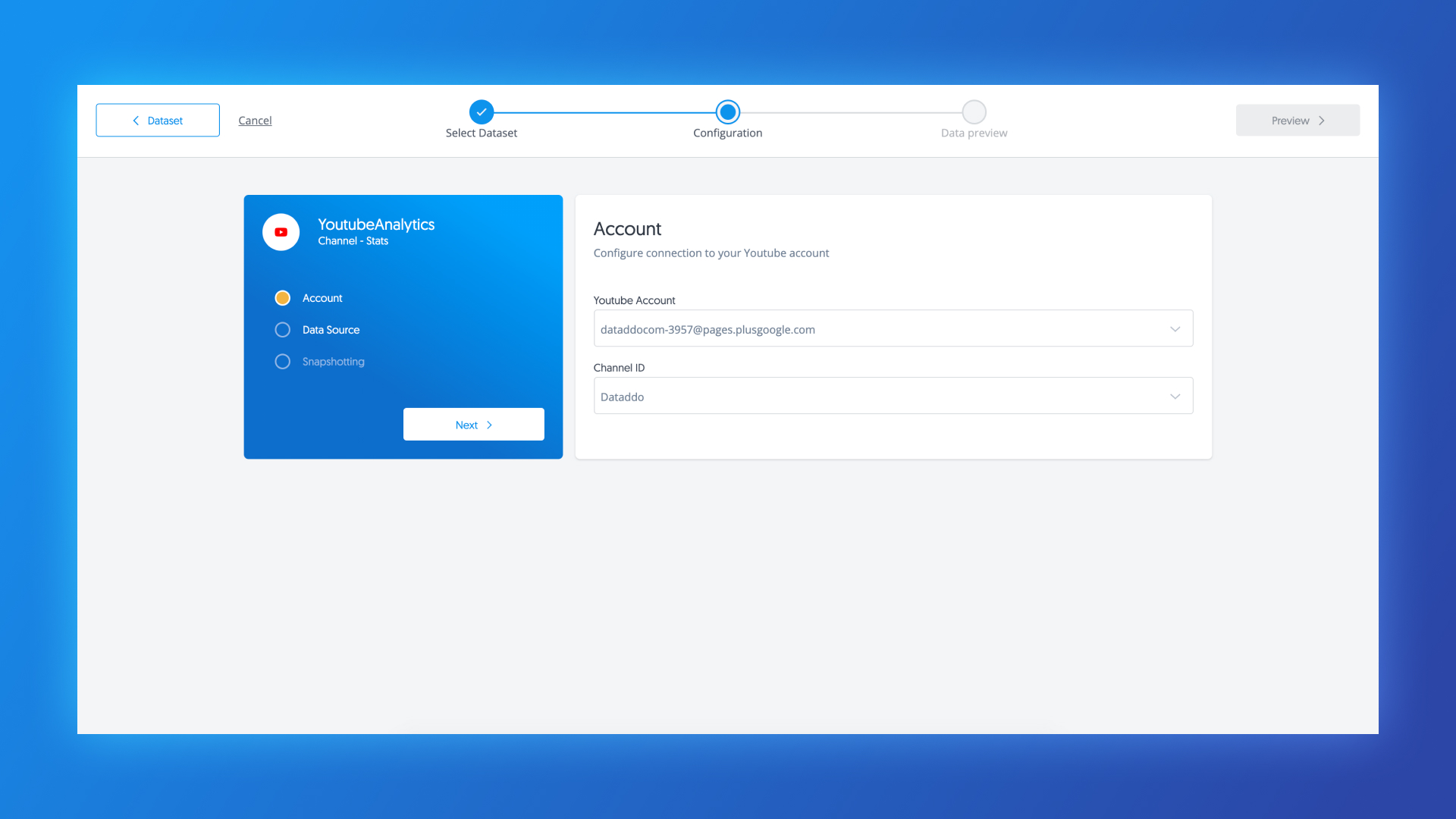 Connect your data source account with Dataddo to implement the connection and get your data.
Step 3: Preview Your Connection & Datasets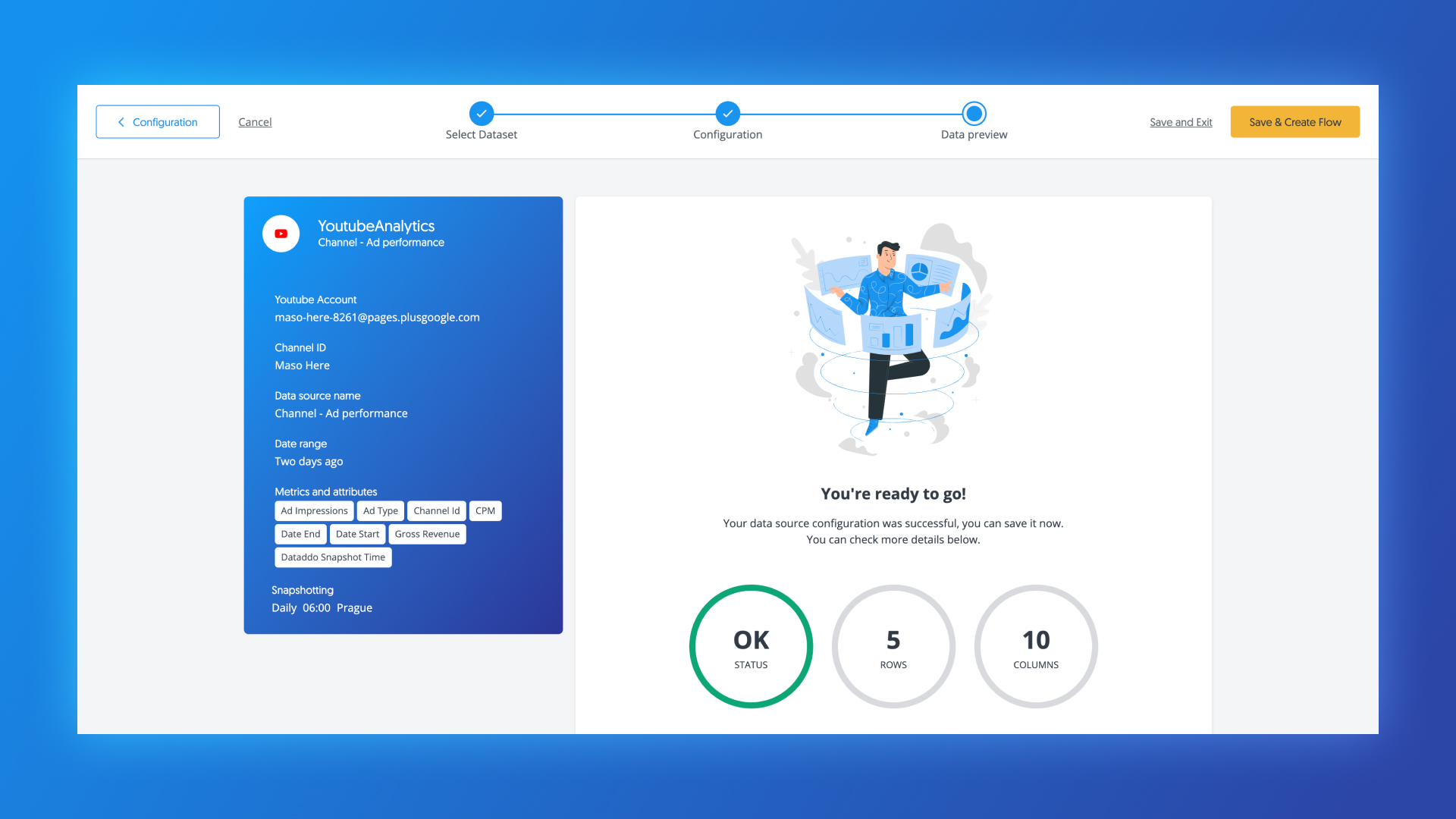 Make sure Dataddo will be capturing the best data for your business from your data source, save your configuration, and set up the data flow to your destination.
For now, you can use these easy steps to connect to the following data sources:
Mailchimp
Exact
Stripe
YouTube Analytics
Brandwatch
Twitter Ads
Digistore 24

Salesforce CRM
Georgias
Xero
Active Campaigns
Act-On
Loyverse
But new sources are being launched every week! Check back for more updates about your favorite connectors and the new look of the Dataddo platform.



Feed your dashboards with Dataddo
Dataddo can feed various Business Intelligence and Dashboarding apps with the data. No coding is required.