I think most of us can agree that 2020 has been a long year. Businesses have had to adapt, and adapt quickly, to the restrictions and changes imposed at the start of the COVID-19 pandemic. As the year has progressed, you may have found yourself needing to update and evolve your initial knee-jerk reactions to find a more permanent solution to our 'new normal'.
Most of us have been working from home for the better part of the year, and there doesn't seem to be any sign of slowing down the work-from-home revolution, with many large companies extending work-from-home through 2021 or moving most, if not all, positions to be permanently remote. In addition, job board websites have clocked a 61% increase in remote job postings with data analysts among the top professions with remote job increases.
One of the biggest data challenges of this new WFH era is ensuring all employees have access to all the necessary tools, platforms, files, and data necessary for them to effectively do their jobs from their homes.
Centralized Data
Not only has the need for centralized data become more clear, but furthermore, the need for cloud based solutions to ensure accessibility. Data centralization is a key factor in data organization, ensuring all projects, reports, and analyses are stored in one easily accessible place.
Having centralized data could also reduce the risk of any process interruptions that may be caused by the unavailability of data and tools needed to proceed with analysis.
In addition to the smooth operation and organizational benefits of centralized data, there is also something to be said of the opportunities for collaboration not only among data analysts and scientists, but with other departments within the company.
Collaboration
There's no question as to the importance of data and comprehensive data analysis in making business decisions. And as a result of this increased importance, we find more and more people in different roles needing to participate in the analysis process and/or gain access to data, whether formally trained in data science or not.
Fostering a collaborative environment can be difficult with collaborators scattered across various time zones and not sitting in the same building. But with the right tools and right methodology, encouraging collaboration between people around the world can prove to be a lot less daunting of a task.
With a centralized data system in place and a one-stop shop for all your data, collaboration is made easy and accessible, leading to better data-driven decisions and smoother business operations.
Key Benefits
Obviously, there are many upsides to ensuring your data management strategies and analysis processes are ready for remote workers.
One of which is the ability to stay open to a wide pool of talent. Data scientists and analysts have been in high demand and low supply with the emergence of data-centric business operations in the past decade. Having the option to work from home can open your business up to data experts around the world, not just in the area of your office.
It is also a big job perk for many employees. Eighty percent of workers in the US surveyed by International Workplace Group said they would turn down a job offer that didn't offer flexible working.
And according to the 2020 State of Remote Work report, conducted by Buffer, 98% of employees who work remotely would like to continue working remotely, at least some of the time, for the rest of their career. In addition, 97% of work-from-homers would recommend remote work to others because of the many benefits, including not having to commute (good-bye rush hour traffic!), ability to have a flexible schedule, and the flexibility to work from anywhere (which hasn't really been all that relevant this year).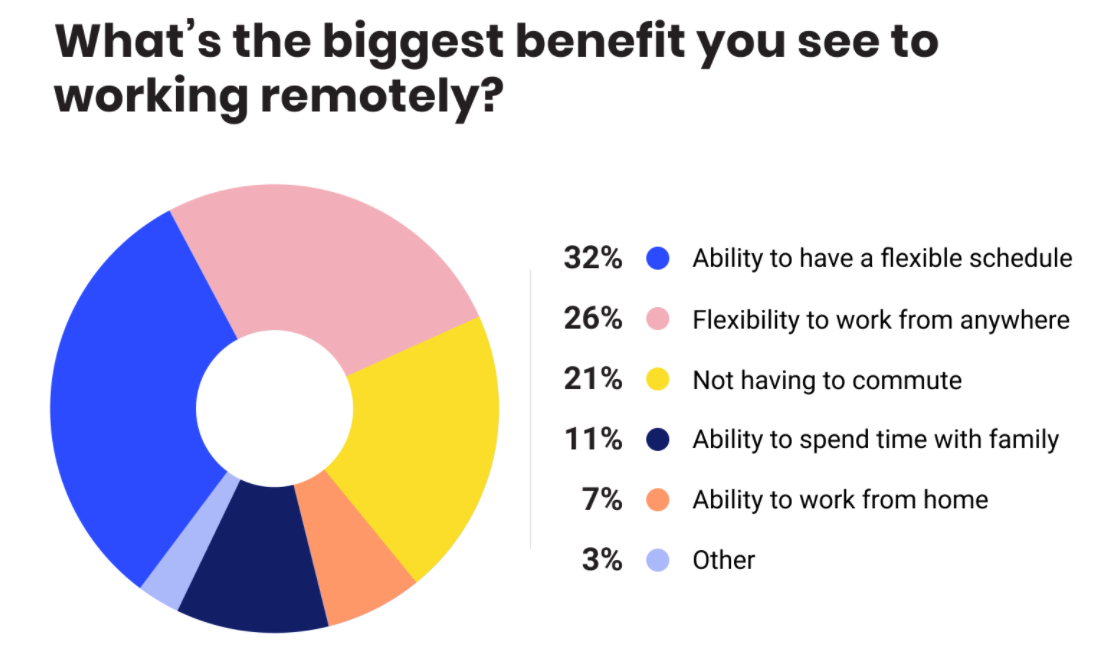 It is important to note that the data for both surveys were collected in 2019 and released in February 2020, therefore they do not take into account this year's unprecedented shift to remote working. However, if past reports are anything to go by, it seems that those who have had their first taste of working from home won't want to go back to the office anytime soon.
Dataddo's Solutions
There are many tools and softwares out there that could be a good fit for you and your company's data and organizational goals. One such tool is Dataddo - a cloud-based, no-code data integration platform.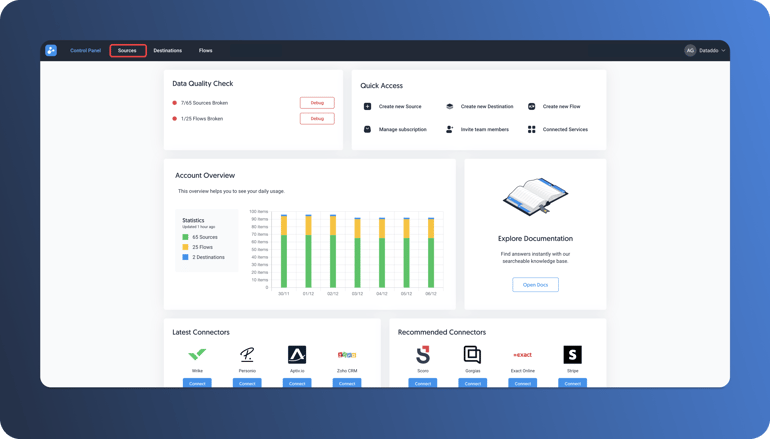 Dataddo can easily fit into your existing data infrastructure and assist your organization in the shift to remote work. Simply connect your data sources, such as Facebook, Salesforce, or SEMrush, and your dashboarding or storage app of your choice, such as Google Data Studio, Klipfolio, or Amazon Redshift. This will allow you to move and blend data in your preferred destination with just a few clicks.
Dataddo will store your data from all your sources, making it an easy point of collaboration and access across your company's departments. Not only is the platform easy to access, but easy to work with as well. Our no-code platform was designed with non-technical users in mind, opening up your valuable data to everyone in your organization to analyze and inform data-driven decisions.
And the best part is that Dataddo offers a 14-day free trial, with full platform functionality and a session with an on-boarding specialist to get your data set up and ready for collaboration. Sign up today to see how your business can keep up with the work-from-home revolution.
WFH got your data in a mess?
Check out Dataddo's data integration platform that will give you easy access to your data in no time.