Maso Here is a Czech startup that runs the largest online marketplace for dried meat snacks in the European Union. Though they specialize in producing biltong and droëwors using classic recipes from South Africa, they also sell jerky, DIY drying kits, and special spice mixes. The company was established in 2012, and its founders spent their early days traveling to farmers' markets, making all their sales by hand.
In 2016, upon realizing that there was more growth potential in online sales, they built an eshop and scaled their production line to accommodate high order volumes. In addition, they began reselling goods from other producers located across the continent. But they still didn't know how best to promote their brand. So, they hired a performance marketing agency. This, however, revealed deeper issues surrounding the organization of Maso Here's data.
The Problem: Inefficient Manual Reporting
The performance marketing agency had no access to Maso Here's ecommerce platform, WooCommerce, so the only way for Maso Here to track return on ad spend (ROAS)—their main KPI—was to generate reports from WooCommerce, Facebook Ads, Instagram, YouTube, and Google Analytics, then compare them manually in a spreadsheet and present them to the company and its agency partners.
This process took the company's founder 3 hours every week for their sole eshop (they now have 3 eshops), and the reports were laden with human errors, so he was never certain that the numbers were correct.
The Solution: Automate Data Pipelines
Maso Here's management began searching for a tool that would help them integrate data from all their paid marketing campaigns and automatically generate reliable reports.
They tested a number of tools, but eventually settled on Dataddo for its flexibility, ease of use, and wide variety of connectors. But because Dataddo enables tracking of any number of metrics from any number of sources, Maso Here wasn't sure where to start. Fortunately, with help from Dataddo's responsive solutions team, they were able to zero in on the metrics most valuable for their business within the 14-day free trial period.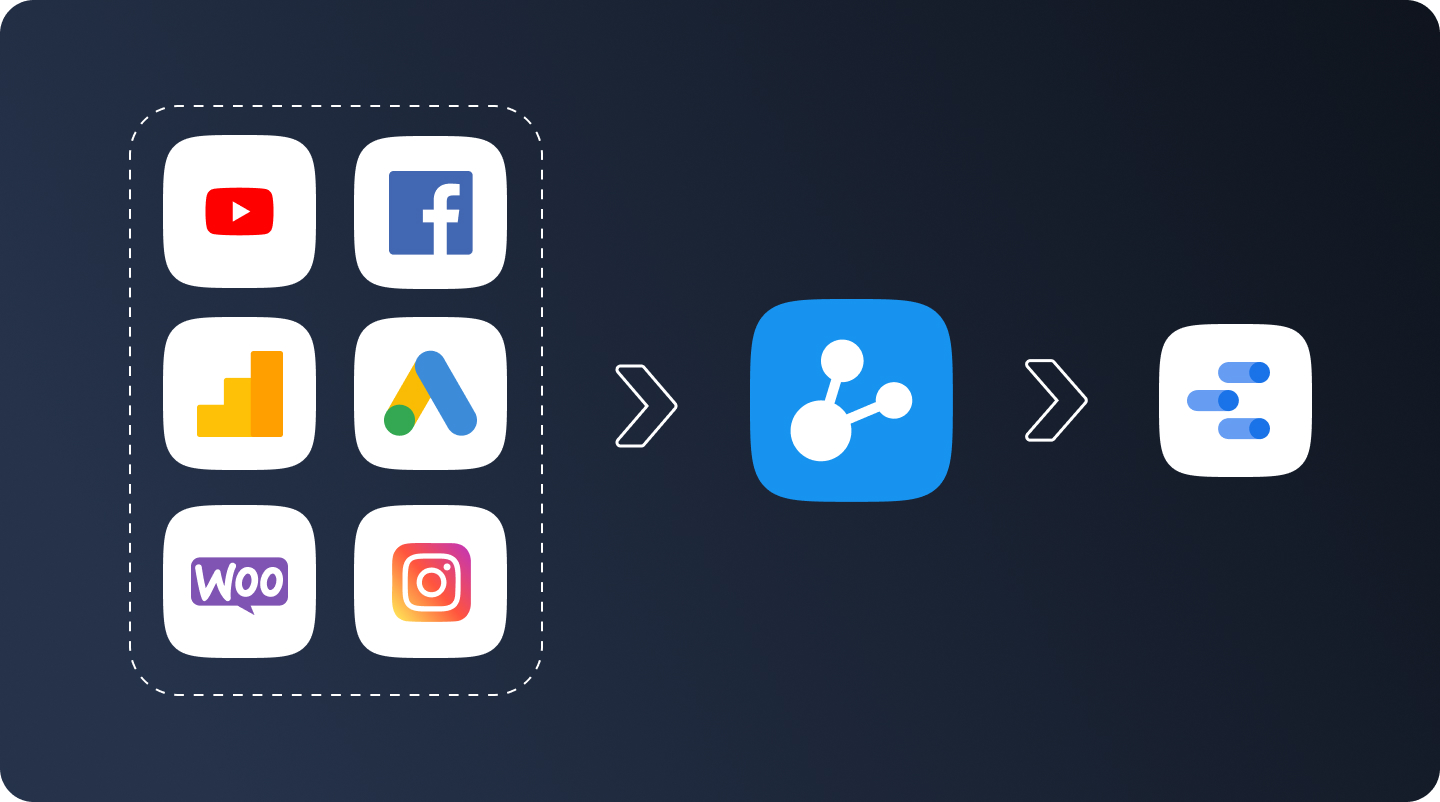 Ultimately, they configured pipelines in Dataddo to automatically extract data from WooCommerce, Facebook Ads, Instagram, YouTube, and Google Analytics, then transform it and load it into Google Data Studio for automatic visualization. Each party is now able to see the performance of marketing channels separately or collectively, for each of its eshops.
Outcomes: Deeper Insights, Clear ROAS, Hundreds of Hours Saved
Thanks to Dataddo, both Maso Here and its agency partner can track ad spend for all its eshops in one place. This eliminates any uncertainty regarding which campaigns are bringing the highest ROAS. And since the agency gets a monthly commission based solely on the overall ROAS number, Maso Here never pays for anything it doesn't get.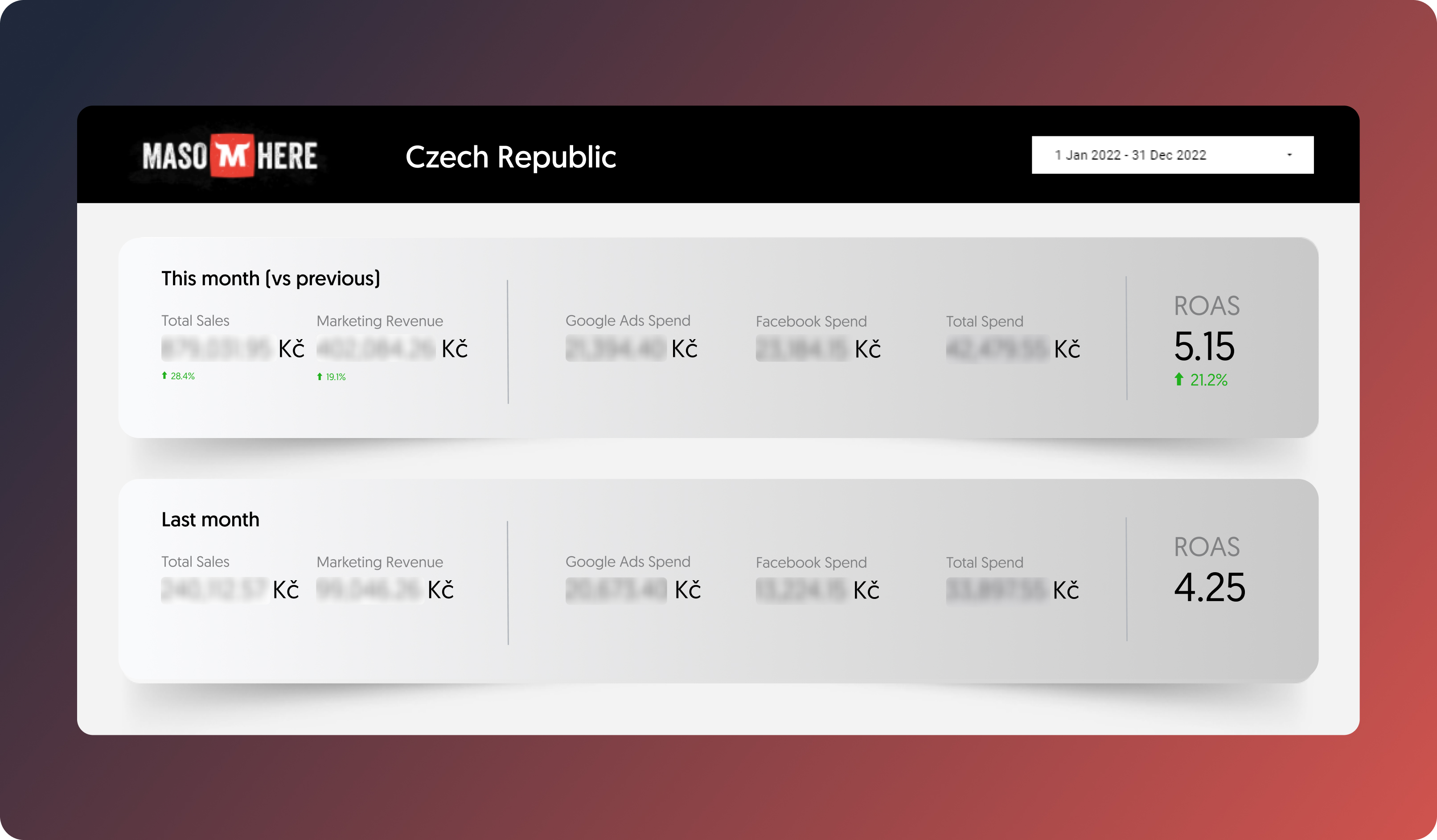 Moreover, the tool has saved Maso Here hundreds of hours annually. Now, instead of spending 3 hours once per week compiling and presenting marketing and ecommerce reports, their founder spends virtually no time doing it every day.
"When we were creating reports manually, we only had 1 eshop. Today, we have 3, so this process would be painstaking if I was still doing it manually. And the reports are far more accurate, so we know which investments are paying off."

- Ondra Plas, Maso Here Founder
Dataddo also helped Maso Here glean unexpected insights about its customers. In particular, the company came to better understand how seasonality affected sales. It was able to tweak communications based on season and watch the results play out in daily reports.
"We thought that people would buy dried meat consistently all year long. But once we started generating reports through Dataddo, we noticed clear seasonal trends. When we adapted our performance marketing accordingly, our bottom line went up."
Opening New Doors with Dataddo
Maso Here already has eshops for the Czech Republic and Slovakia, as well as an EU-wide eshop, and in 2022 plans to localize eshops for a number of other European countries. They are also in the process of getting their products listed on Amazon. All this means more marketing channels, more sources, and more data. But with a fully composable data architecture already in place, there is no barrier to scaling analytics.
See how Dataddo can help your business
Just a few quick steps to get your data to your dashboard for better analysis, without the hassle.