Loyverse was getting the job done, but they needed more.
Mwingi, a retail franchiser in Kenya, had been using Loyverse for all of their franchises' POS needs from the start. Though generally happy with the service, there was one inconvenience which affected them on a daily basis: Loyverse's analytics and reporting systems were not robust enough to meet Mwingi's needs. Like other businesses in similar situations, Mwingi was forced to develop time-consuming work-arounds. The fuss of manually exporting their Loyverse data was cutting into work hours; hours better spent on the communities they were serving.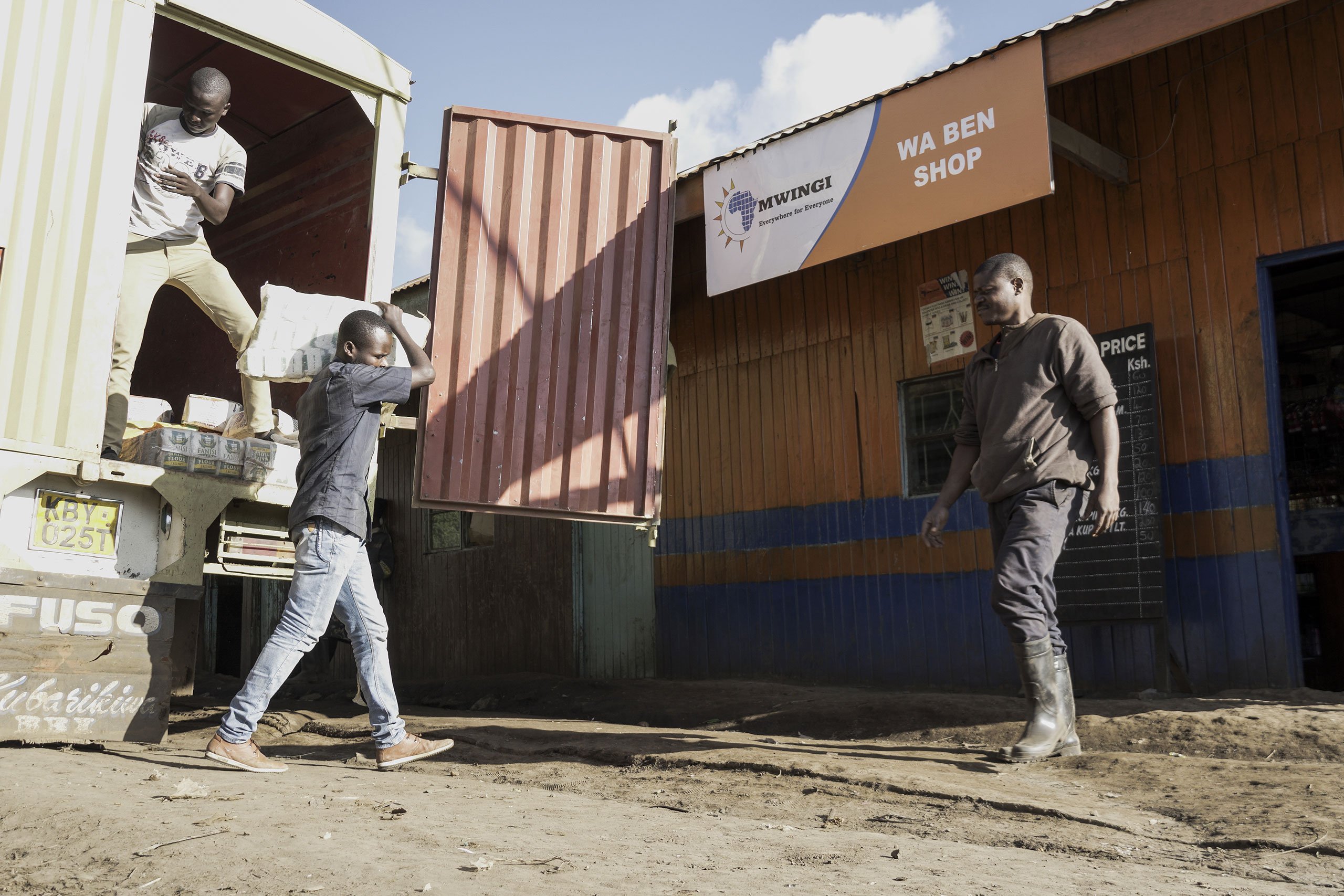 images courtesy of mwingi.africa
For shop owners living and working in the rural, "last mile" areas of Kenya, easy access to basic products is rare at best, non-existent at worst. That's why Brenda Mideva and Manuela Raith created Mwingi: a retail distribution company which offers local shops the opportunity to become Mwingi franchisees in exchange for stable product distribution, cash management, and a digital POS system. Mwingi uses Loyverse POS to track their shops' stock and ensure that each one is replenished before it runs out. They are finally providing rural Kenyans with a reliable source of quality household products, one shop at a time.
Expansion is the key to reaching and helping the largest number of communities possible. In order to do that, it was clear early on that Mwingi needed to get a handle on their financial data and develop a data architecture that worked for them.
The Challenge: Automate Tedious Financial Reporting
Transparency lies at the foundation of Mwingi's business model. Every day, Mwingi collects the financial data for each of their stores from Loyverse and sends it in a PDF report to the individual shop owners. The franchisees then know how much money was made on a given day and can divide the profits appropriately. This sales information is crucial to keeping the shelves comfortably stocked and the communities provided-for.

However, the process for attaining this PDF report was, historically, less-than-straightforward. Loyverse can afford its users with financial data, basic reports, and analytics for one shop, but Mwingi needed to be able to customize dashboards for a large number of stores. To get their necessary reports, the Mwingi team was manually downloading Loyverse data as CSV, transforming it, and then uploading it to Google Sheets to generate daily performance records for each store individually.
With four stores currently operating and a staggering twenty more opening in the near future, it was clear to Mwingi's management team that this system was not scalable for their imminent growth. They needed something automated, simple, and flexible to connect Loyverse to Looker Studio and create an array of dashboards on demand.
The Dataddo Solution: Loyverse to Looker Studio Integration
In their search for a solution, Mwingi discovered Dataddo as a convenient way to funnel data from multiple sources. To generate the sophisticated reports they had in mind, it was a logical next step to start using a more advanced dashboarding platform: Looker Studio in this case. The problem became creating a solid pipeline from Loyverse to Looker Studio with metrics already set in place for transformation. Mwingi needed all retail store data to be sent to Looker Studio each morning, ready to be parceled into a variety of visualizations.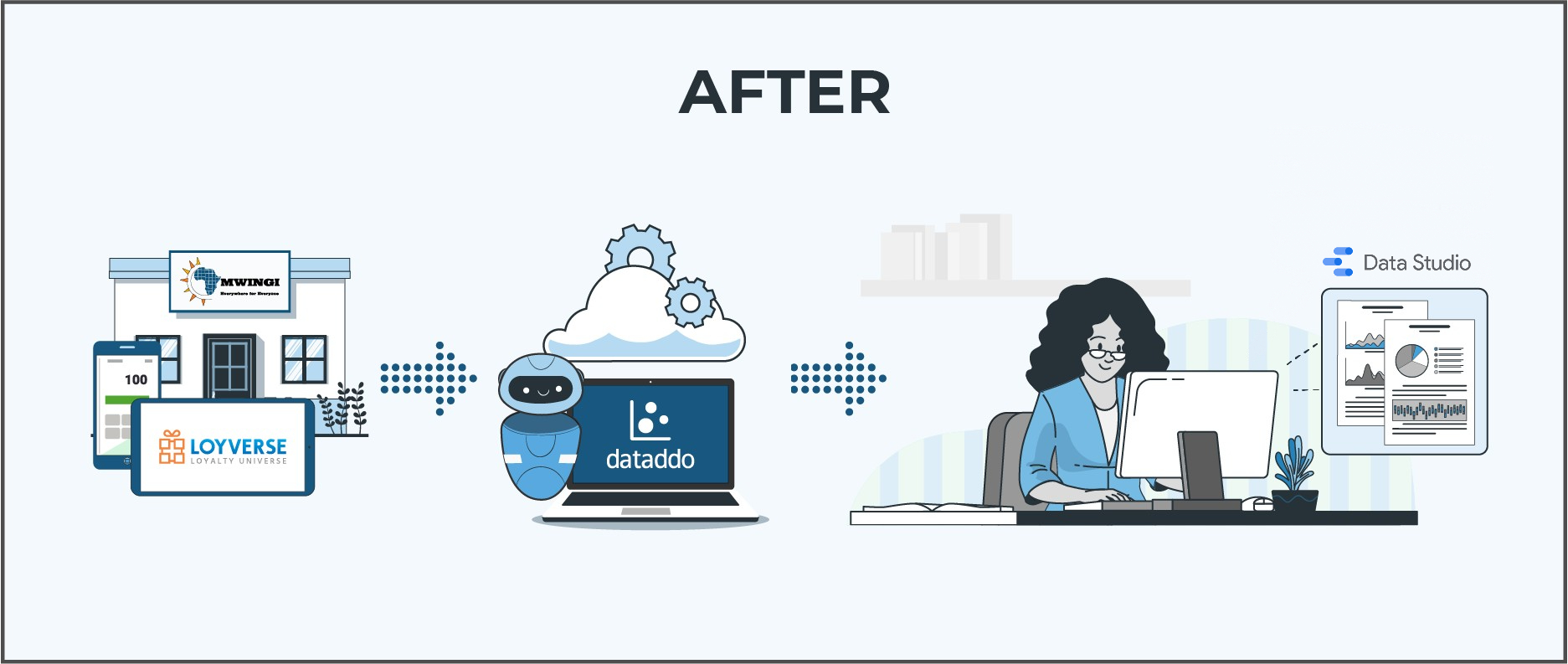 ---
---

Mwingi started in Dataddo with four data sets from Loyverse: stores, receipt items, payments and inventory, then used data blending technology to combine these sets from all stores. The Mwingi team was able to optimize their use of the Loyverse values such as gross, net, and total sales to create custom formulas in Looker Studio special to their use case. With all of the necessary data in Looker Studio, Dataddo helped Mwingi to configure a company-wide overview dashboard as well as individual dashboards for each store's daily sales.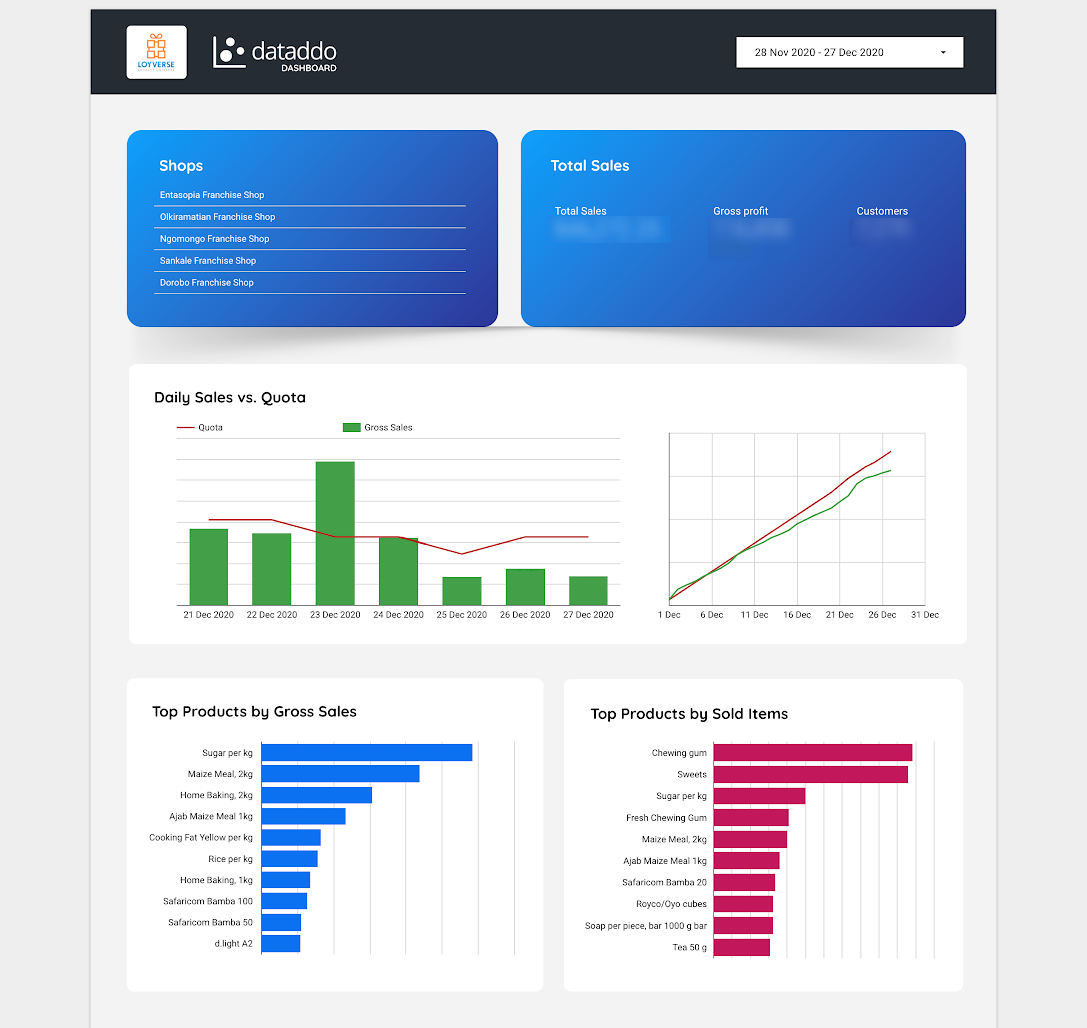 "Now MWINGI can keep control without physically visiting the shops by using the data provided by Dataddo."

-Manuela Raith, Mwingi Co-founder
The Outcome: Easy Reporting At Last
With their business expanding at breakneck speed, it was not going to be possible for Mwingi management to painstakingly create manual reports for 24 stores every day while maintaining the distribution that keeps their franchises operating smoothly. Dataddo integration technology put sleek dashboards instantly at their fingertips, so the Mwingi team can quickly finish their daily reporting and focus on what they do so well: improving the lives of rural Kenyans with reliable and affordable goods.
"With the new solutions from Dataddo, manual processes could be automated. Our workforce can now focus on growth instead of investing a lot of time for routine works. By managing our network of outlets more efficient we gained the capacity to grow faster. We very much appreciate the support we got from Dataddo as it brought us to the next level of operational excellence."

-Manuela Raith, Co-Founder, Mwingi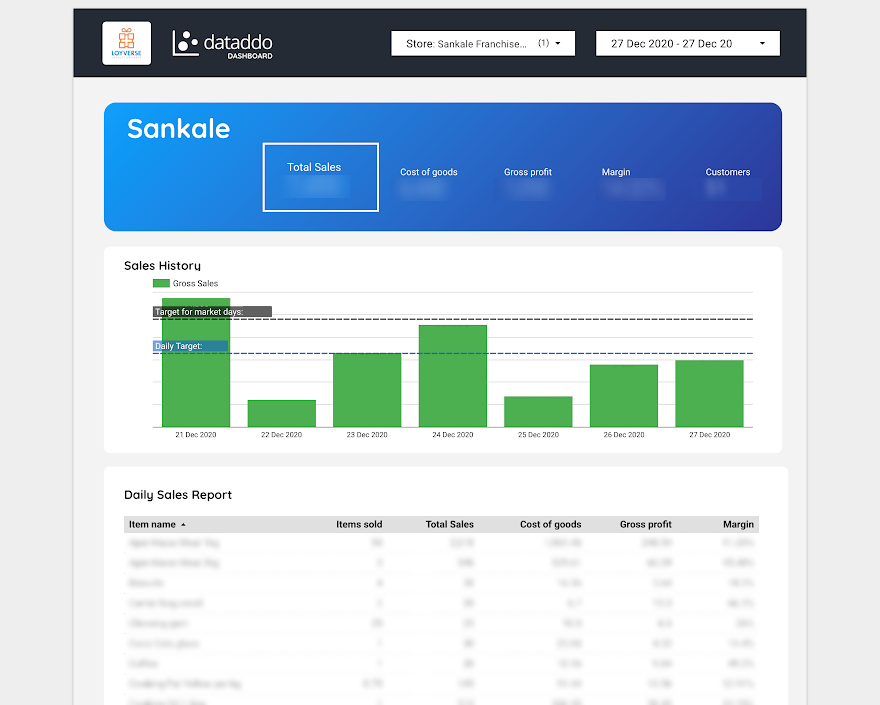 The Dataddo pipeline operates automatically in the background, taking a burden off of Mwingi's shoulders. Loyverse functions perfectly inside of the data architecture, no longer an obstacle to daily reporting.
Do you want to experience the transformative capabilities of Dataddo for yourself? Start a free 14 day trial and see how integrated data management can work for you.
Connect Loyverse to Looker Studio
Just a few quick steps and you'll find all your Loyverse data in your favorite BI tool.