When it comes to Dataddo's colorful characters, you'd be hard-pressed to find someone to match Zdenek Pecha's unique combination of humor and talent. Our COO and co-founder has been with Dataddo since the beginning, and he uses his boundless people skills to bring life, culture, and fun to our tech operation.
Zdenek (or Zdeny, as we call him), is an actor on the side, primarily doing theater in Prague with the occasional film appearance (you can catch him in the acclaimed 2019 Czech film The Painted Bird). Zdeny is committed to balancing his work life with his artistic pursuits, and he models this balance for the rest of us week after week. So we had two big questions: how does an actor become the COO and co-founder of a tech start-up, and how do the two lives fit together?
This interview has been edited for length and clarity.
First, give us a bit of your background info: Early life and education?
So I grew up in Hradec Kralove, Czech Republic, where I finished school while doing theater on the side. Then I moved to Prague to attend the Academy of Performing Arts (DAMU) for my acting degree. After DAMU, I moved to Brno to pursue a law degree, but I didn't finish.
Why did you decide to move from acting to law?
It's a good question [laughs] because I don't really know. The thing is that I always wanted to try as many things as I could, but I still couldn't find any direction in that—I didn't know exactly what I wanted to do.
But then, I started using my pre-law degree to get jobs. I worked at a law firm, then for an advertising agency, and then at the Czech Ministry of Justice, but the Ministry wasn't as exciting as it sounds—I was basically doing operations, facilities management, public contracts, etc. That was a crazy period of my life.
Crazy how?
Crazy in a boring way. Like, when you look around and suddenly you are in a place where you are absolutely sure you don't belong there, doing something that is the exact opposite of what you enjoy. The Ministry had no space for invention or creativity.
Nonetheless, I stayed in that situation for three years. I was acting the whole time but as a hobby. I've had a performance at least three times a month from the time I graduated until now, just never full-time. I like it that way because I have the opportunity to take interesting projects with people I really enjoy, and I've always been lucky enough to get great projects.
Side note: what's been your most favorite production you ever did?
Hmm, probably this stage play at Vosto5 theater called Pérák, which roughly translates as "Outlaw" in Czech. We did close to 100 shows over the course of 5 years.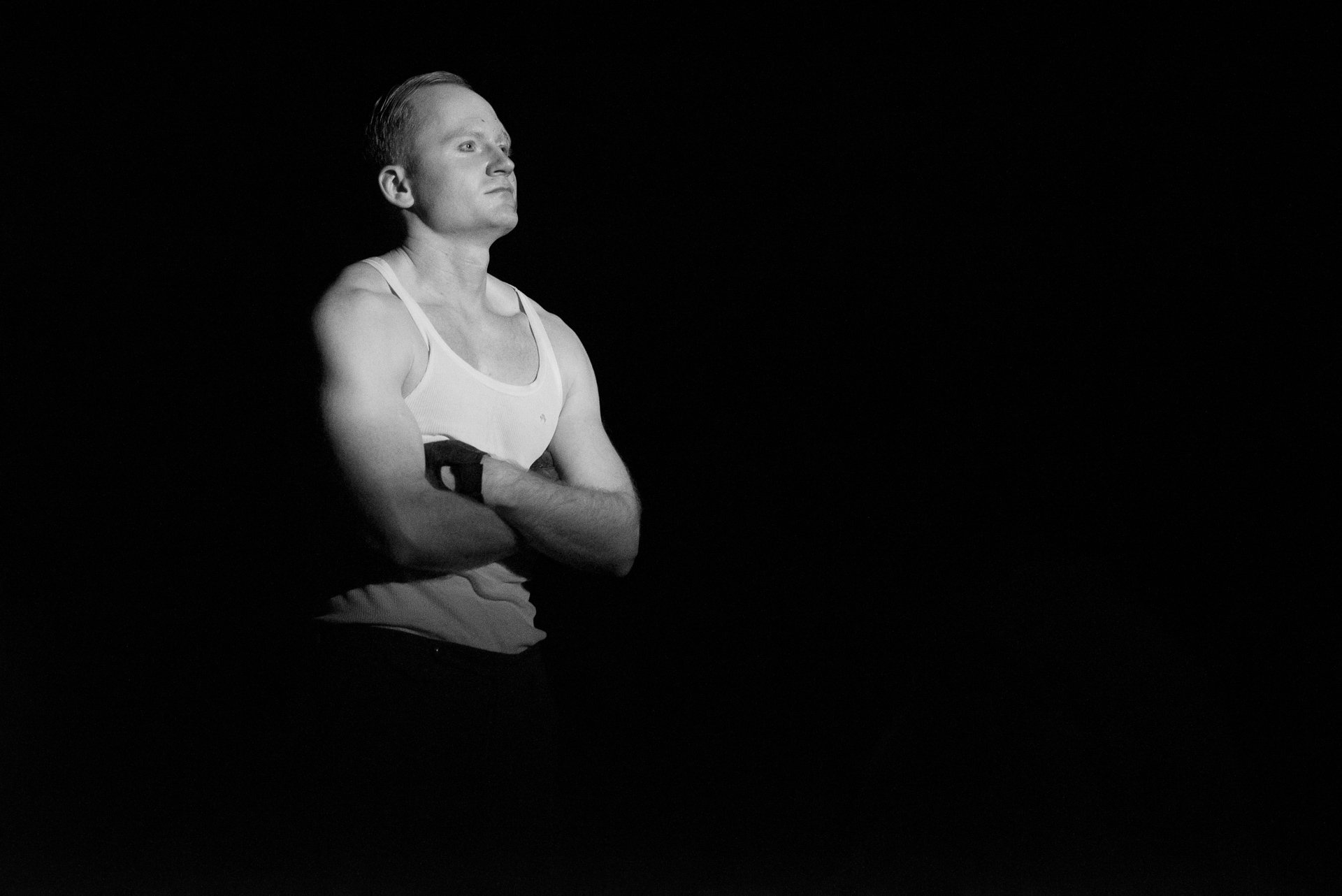 A brooding Zdeny onstage in "Pérák" (Outlaw).
Pivoting to Dataddo: how did you meet and befriend Petr (CEO)?
Complicated [laughs]. Basically, we were in our late twenties, and a friend of mine moved into a flat that Petr shared with a couple of other people. I met him at a party there, I think. We weren't very fond of each other in the beginning. There may or may not have been some argument over a girl…
Basically, Petr and I were very different, almost clashing personalities. But our friendship just happened naturally—we started going to judo and boxing together. I was working these jobs I didn't like, Petr was working and studying. He was a data analyst for a publishing house, running into a lot of data management issues, which gave him the idea for the Dataddo platform. He'd tell me about what he was working on, and we talked about the possibility of it becoming a business, how we could partner in it together.
Eventually, he started developing the platform himself and then approached me to join him. And I knew that if I stayed working at the Ministry much longer, I'd lose the will to live. Plus, I always wanted to work on something on my own, and this sounded extremely interesting and challenging. So I said yes and we started working on the project in our spare time, as much as we could.
What were your first tasks? First job title?
Well, at the beginning it was really just the two of us, so I was Head of Sales, Marketing, Business Development, Accounting and Finance, you name it. Petr did everything related to the development of the platform and I did...everything else. We didn't know much about how to run a company, so it was all learning by doing.
But we really had this passion, this drive to build something on our own, and that was what really kept us going.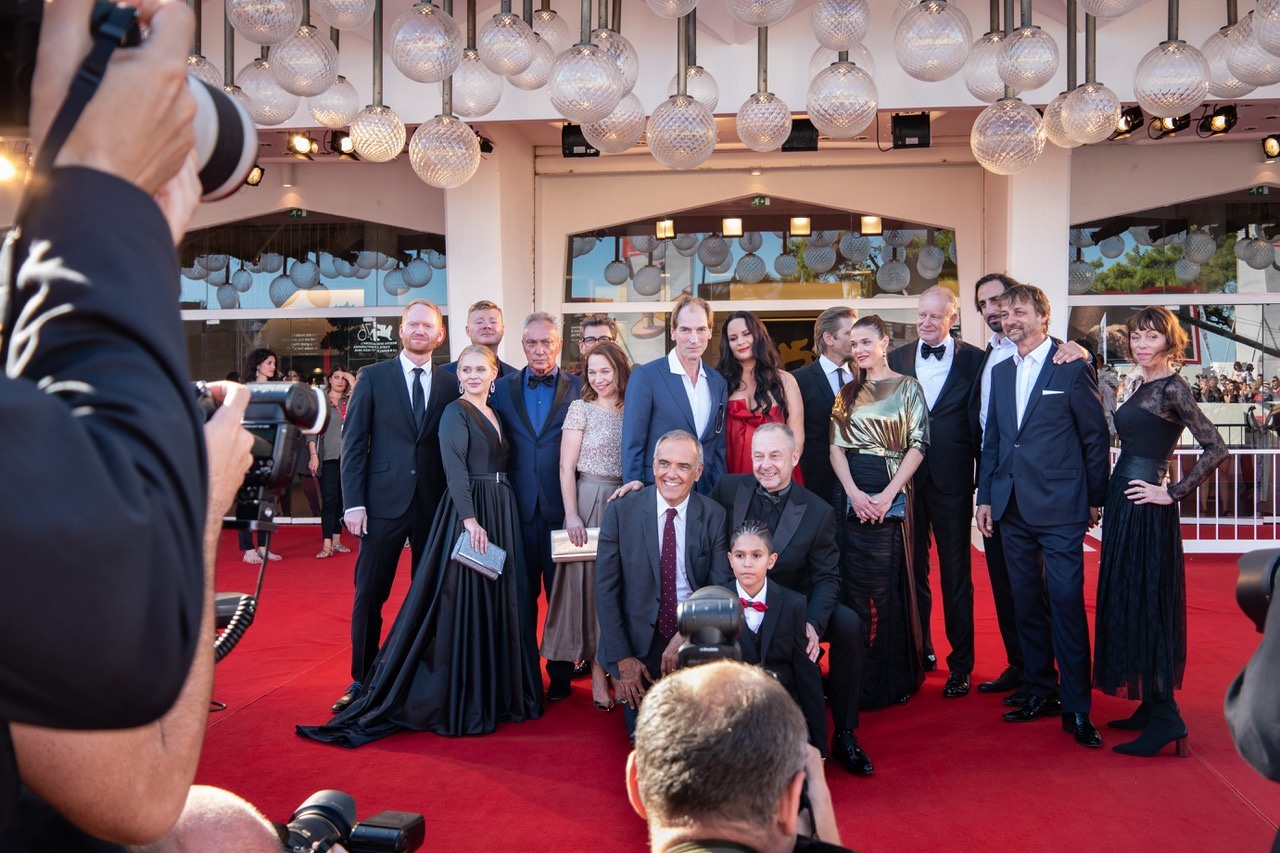 At the Venice Film Festival, representing the film The Painted Bird. You can see Zdeny on the far left.
And you've still been acting this entire time—how do you compare the two worlds, of tech and acting?
I love that I'm part of two worlds that are so different. I like that I can come to work here during the day to be with developers and marketers and coding and technology, and then in the evening walk into a theater and be with a completely opposite crowd of folks. Being able to switch like that is relaxing, and it keeps things interesting for me.
Both of these worlds are incredibly creative but in very different ways. You're creating a stage play, or you're creating a business and trying to establish your place in the market. Just in the last year, I've seen our team grow three-fold. You get to watch it all happen.
So how do you describe your role with Dataddo now?
Now I'm the COO, and I also play a significant role in the HR department. I really enjoy the operational aspects of it, where the work is to make the whole business run as one machine.
Also, I organize the parties. :)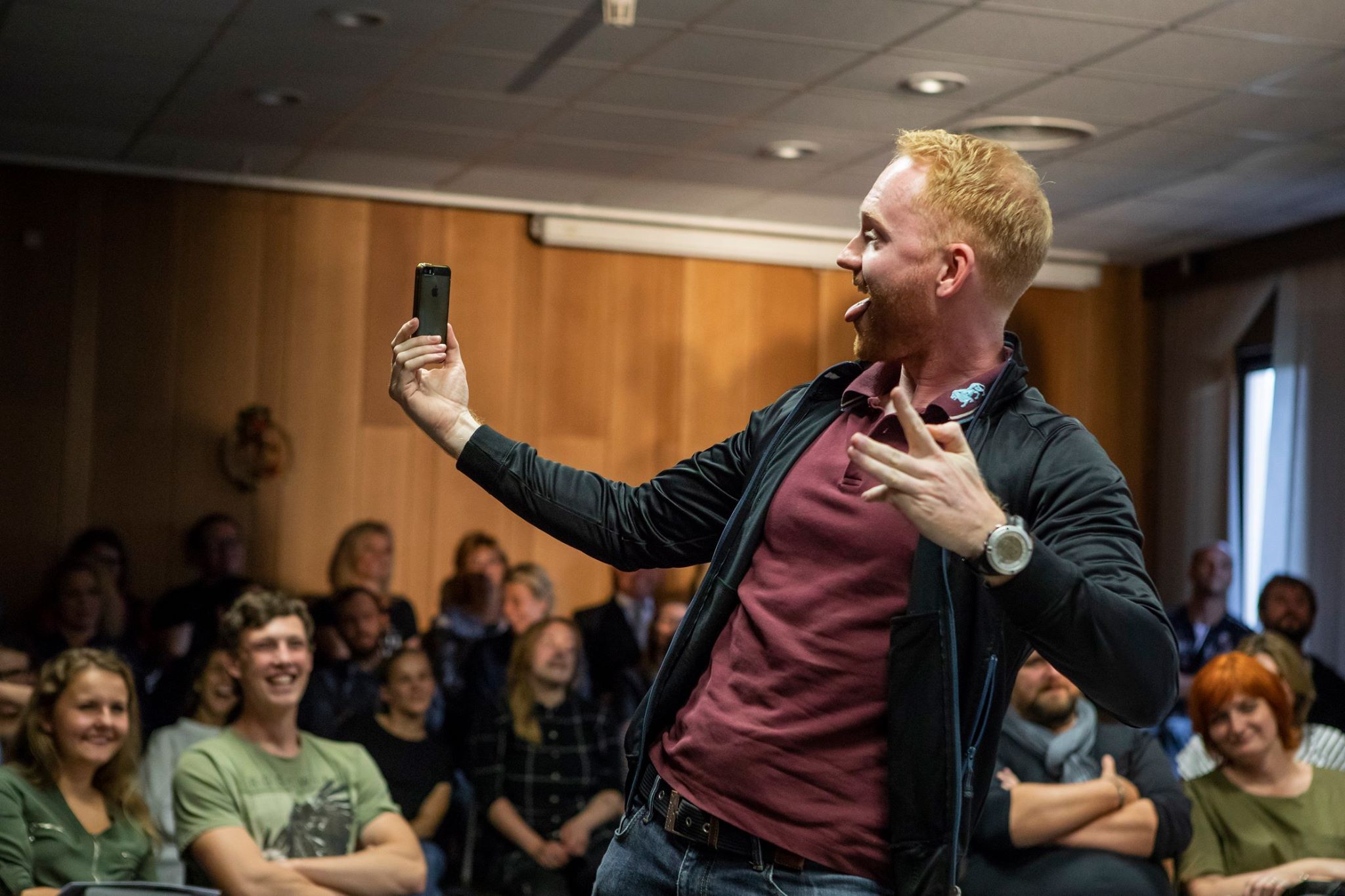 Another stage shot, this time in the play "Společenství vlastníků" (Fellowship of Owners)
Speaking of, what do you want to see happen in Dataddo's company culture?
I want this to be a safe and challenging environment where people can feel comfortable being themselves when they interact with each other. We're striking the balance between comfort and motivation, where people enjoy coming to work and feel the drive to get things done.
And what kind of future do you see for Dataddo?
Well, first I see us continuing our growth into a market leader, which is a position we are steadily building, day-by-day.
Besides that, I'd say we have two big challenges in the very near future: the first is making sure our team stays connected, on the same page while we grow at such a fast pace. We don't want the company to become closed and divided into its departments, all functioning without a shared understanding of our common goals. The second is our company culture, creating an environment that is open and safe for all involved, while also being challenging enough to motivate. It can be a tricky line to walk.
But just like Dataddo is a platform that connects wildly different services, the same can be said for the people on our team. Even as a relatively small company, we bring together people from all over the world, and it works. As we grow faster there will be more new people, ideas, and personalities who influence our company culture, and the culture we want to create, cultivate, and maintain is up to us. For me, I take this as a personal challenge and main task for the future, and I am really looking forward to where this fast growth will take us.
Looking for a company to grow with?
Explore open opportunities at Dataddo today.